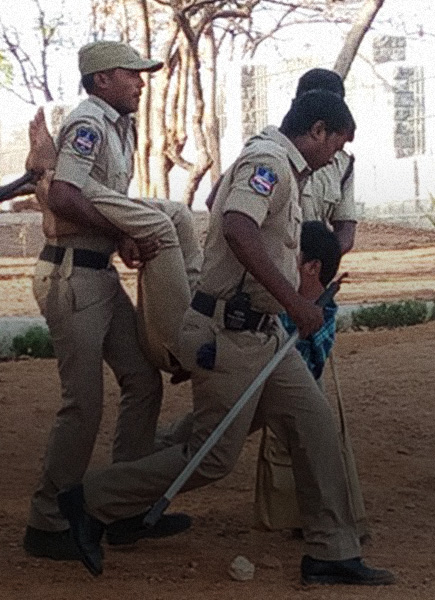 The National Human Rights Commission has taken suo moto notice of the 'emergency-like' situation at Hyderabad Central University and sent notices to the Union HRD ministry, the Telangana government and the Hyderabad police commissioner, asking for reports within a week.
"The commission has observed that the arbitrary act and high-handedness of senior university officials as well as police and administrative officers, as reported in media, raise serious concerns towards safety and security of the students," the NHRC said.
Students at the university had been beaten up by enforcement agencies on 22 and 23 March for violently protesting the return of vice chancellor Appa Rao Podile who had been on leave since he was accused of abetting the suicide of Dalit scholar Rohith Vemula.
At the same time, a strike by the university's non-teaching staff had left the students without access to food, water and electricity. The strike was apparently in support of Appa Rao, says The Telegraph.
"No one can be deprived of the basic amenities like water, food and electricity by wilful act of the State," said the NHRC.
The police had apparently beaten up 25 students and two teachers while arresting them on charges of vandalism. The bail hearing for these 27 people will be held on Monday.
Rohith Vemula's family has demanded the immediate release of all the 27 people arrested, and the arrest of Appa Rao instead.
Sitaram Yechury, general secretary of the CPM, met President Pranab Mukherjee on Friday and asked him to remove Appa Rao as vice chancellor of HCU in his capacity as Visitor of the university for his "blatantly anti-Dalit stand".
In Delhi, the JNU Students Union will march to the NHRC office on Monday, to demand the withdrawal of the cases against the Hyderabad students, and action against the university authorities.
In a joint statement, students of five other universities in Hyderabad have asked people to protest the "police repression" of the HCU students. The statement says the students were "brutalised by the police in public view" and the university administration "stopped the functioning of the mess, cut off water supply, and Internet connection".