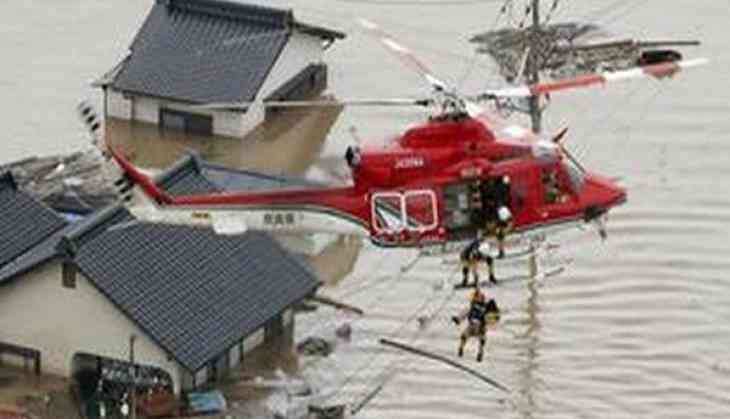 At least 195 people have been killed in landslides and floods caused by torrential rains in Japan since the past few days.
CNN quoted Japanese Chief Cabinet Secretary, Yoshihide Suga, saying that 42 people were unaccounted for, while two persons were confirmed missing.
Japanese Prime Minister Shinzo Abe visited the rain-hit Okayama Prefecture on Wednesday, surveying the damage from above in a helicopter, calling it the "scars of the terrible damage of heavy rain."
During his visit, he also visited an evacuation centre and implied that his government was making efforts to deal with the crisis. The Japanese Prime Minister visited Kurashiki and met with the Okayama governor.
Last Thursday, the rain began and the intensity picked up from Friday. Over the weekend, some parts of Japan received between 300 to 500 millimetres (12 to 20 inches) of rain.
Hiroshima, Okayama and Hyogo prefectures were the worst affected prefectures, receiving over 500 millimetres of rain, and some cities were completely inundated in a few hours, as per the report.
As the streets were filled with water, hundreds of people were forced to flee their homes, while those who were stranded took shelter on open rooftops.
The flooding became severe as much of the rainfall occurred over a mountainous region and trickled down to the plains, causing heavy flooding.
75,000 responders have been deployed for search and rescue operations in the affected areas.
Nearly 17,000 households are still without power, and phone lines are down across multiple prefectures.
(ANI)