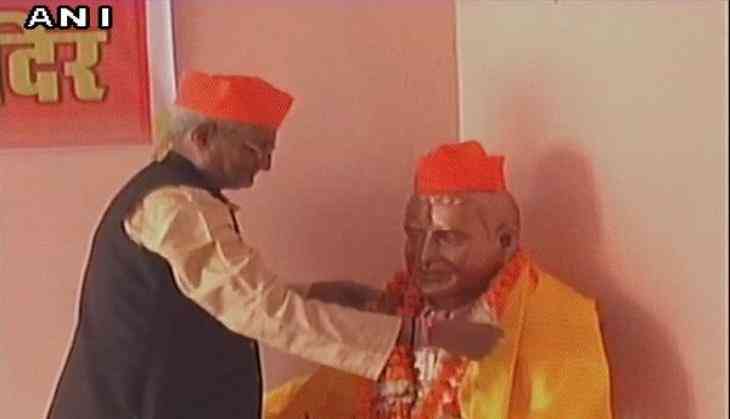 The Hindu Mahasabha installed an idol of Nathuram Godse inside their office in Gwalior, Madhya Pradesh on his 68th death anniversary on 15 November.
The Mahasabha had requested for land from the district administration for a temple dedicated to Mahatma Gandhi's assassin in the city, but their plea was not entertained.
"The government refused to give us land for the temple, so we created one on our private land," Hindu Mahasabha VP, Narayan Sharma told ANI.
Explaining the establishment of the temple, Sharma asserted that the youth of today had no knowledge about the history of India.
"This temple has been established to educate the new generation about India's freedom struggle and who all sacrificed their lives and took necessary steps for it," he added.
Sharma also said four political parties helped them to establish the temple.
Speaking about the Godse temple, Sharma said, "In 1947, the British told [Mahatma] Gandhi that they would leave India, but talks of partition started happening. The Akhil Hindu Mahasabha protested against it."
He added that the huge protests encouraged Gandhi to say that the partition of India and Pakistan would be done over his dead body.
"But both Muhammad Ali Jinnah and Jawaharlal Nehru wanted to become prime ministers. So [Mahatma] Gandhi went ahead with the partition, and during the process of partition, lakhs of Hindus were killed and their dead bodies were sent to India. Nathuram Godse, who was a hardcore Hindu, could not see it and hence, killed [Mahatma] Gandhi," Sharma said.
Sharma added the temple was established on their property and "nobody can change or touch our personal opinions."
Nathuram Vinayak Godse was a Hindu nationalist, who assassinated Mahatma Gandhi, shooting him in the chest three times at point blank range in New Delhi on 30 January 1948.
He was hanged till death on 15 November 1949.
-ANI