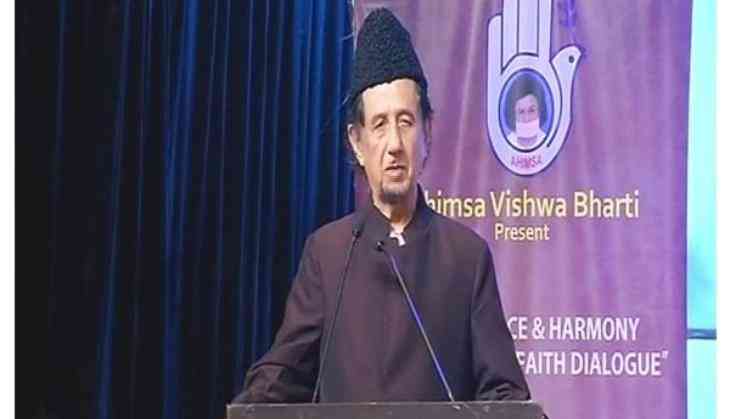 Muslims should give up claim on Babri land: Shia cleric
Senior Shia cleric Maulana Kalbe Sadiq on Sunday advocated for peace on the issue of Babri Masjid, stating that if the Supreme Court's verdict is in their favour, then the Muslim community should give up their claim on the disputed land.
"The Supreme Court is dealing with the Babri Masjid issue and we have full faith in the top court's verdict. If Babri Masjid verdict is not in favour of Muslims, then they should peacefully accept it. And if the verdict is in favour of Muslims then they should happily give the land to Hindus. The issue should be dealt with respect by both the communities," Maulana Sadiq said while addressing the World Peace and Harmony conclave here.
Adding context to his seemingly controversial advice, the cleric further said that one receives thousands in return on giving away just one thing close to them.
His comments come in the wake of the Shia Waqf Board telling the Supreme Court that a mosque can be built at a distance from the disputed land, as the latter on Friday commenced the cross-appeals hearing in the Ram Janmabhoomi-Babri Masjid case, to look for an amicable settlement of the dispute.
M.C. Dhingra, the lawyer appearing for Shia Waqf Board in the Ayodhya case, while speaking to ANI on the same, said that the Shia Board has decided to leave the one-third land allotted to them, to avoid problems for both the religious denominations, in regard to their prayers.
Briefly explaining the Shia Board's stand, Dhingra said that if a mosque is built in the one-third area, there will not be any permanent solution to the long-driven dispute.
In a 30-page affidavit, filed on August 8, the Shia Waqf Board asserted that the Babri Masjid site was its property and only it was entitled to hold negotiations for an amicable settlement of the dispute.
The board placed an affidavit before the apex court in which it stated that a mosque can be constructed at a place near the birth place of Lord Ram.
"Since the Babri Masjid was a Shia Waqf, we are alone entitled to negotiate and arrive at a peaceful settlement with other stakeholders," Shia Waqf Board said in its statement.
It came just a few days after the apex court agreed to fast track the proceedings on a string of appeals, challenging the Allahabad High Court verdict on the land dispute in the case.
The Sunni Central Waqf Board too issued a statement on Thursday, responding strongly to the claim, terming it "baseless."
-ANI