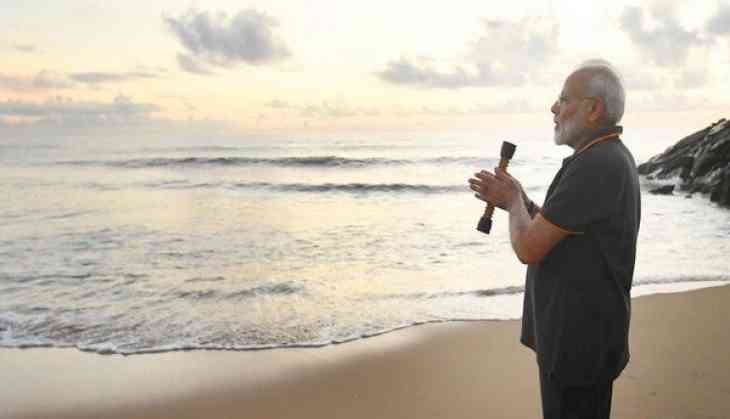 An early morning walk at Mamallapuram beach stimulated Prime Minister Narendra Modi to jot down a poem on his tete-a-tete with the ocean.
This morning, Prime Minister Narendra Modi posted a poem on his official twitter handle stating the conversation the world of my feeling. PM Modi, in his piece of poetry discribed the ocean's connection with the sun, the waves and it's pain.
Recently, PM Modi was on a two day visit to Tamil Nadu for an informal summit with Chinese President Xi Jinping, where they talked over various issues from fighting terrorism to trade and investments and aspect of renewing relations between the two nations.
On the second day, PM Modi had posted a few pictures of himself strolling and exercising along the coast.
"Refreshing walk and exercises in Mamallapuram, along the scenic coast," PM Modi tweeted.
AlsoRead: Ravi Shastri inspires meme fest with his Titanic pose; see pics
कल महाबलीपुरम में सवेरे तट पर टहलते-टहलते सागर से संवाद करने में खो गया।

ये संवाद मेरा भाव-विश्व है।

इस संवाद भाव को शब्दबद्ध करके आपसे साझा कर रहा हूं- pic.twitter.com/JKjCAcClws

— Narendra Modi (@narendramodi) October 13, 2019
AlsoRead: Hawaiian family bags Guinness World Records, reason will blow your mind
Besides, walking and exercising, PM Modi who is known for initiating Swacch Bharat, shared a clip on the beach, where he went plogging.
"Plogging at a beach in Mamallapuram this morning. It lasted for over 30 minutes. Also handed over my 'collection' to Jeyaraj, who is a part of the hotel staff," he tweeted. "Let us ensure our public places are clean and tidy! Let us also ensure we remain fit and healthy," he tweeted.
AlsoRead: The only Sachin Tendulkar's record Virat Kohli won't be able to break