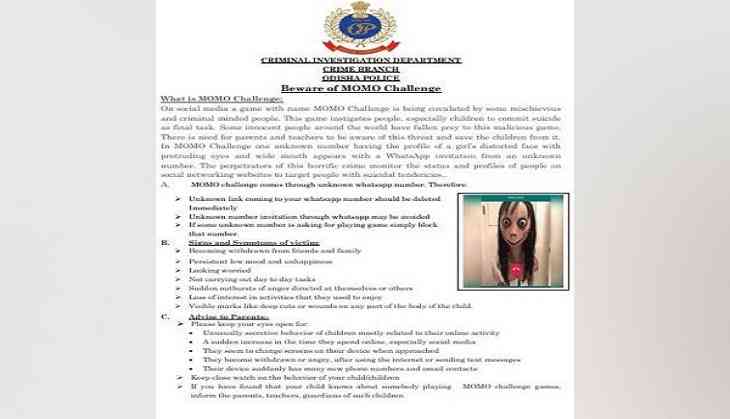 Odisha Police's Crime Branch on Saturday issued an advisory against the 'MOMO challenge', asking parents and teachers to protect children from the game, which "instigates people, especially children to commit suicide as final task."
"On social media a game with name MOMO Challenge is being circulated by some mischievous and criminal minded people. This game instigates people, especially children to commit suicide as final task. Some innocent people around the world have fallen prey to this malicious game. There is need for parents and teachers to be aware of this threat and save the children from the deadly game," the advisory read.
As part of the game, "one unknown number having the profile of a girl's distorted face with protruding eyes and wide mouth appears with a WhatsApp invitation from an unknown number," the advisory stated.
The statement added, "The perpetrators of this horrific crime monitor the status and profiles of people on social networking websites to target people with suicidal tendencies."
The parents have been advised to keep a check on - unusually secretive behaviour of children mostly related to their online activity; a sudden increase in the time they spend online, especially social media; they seem to change screens on their device when approached; they become withdrawn or angry, after using the internet or sending text messages; and their device suddenly has many new phone numbers and email contacts.
The advisory also asked media not to publish any "unverified news and connect any death/suicides to MOMO challenge without proper verification".
(ANI)