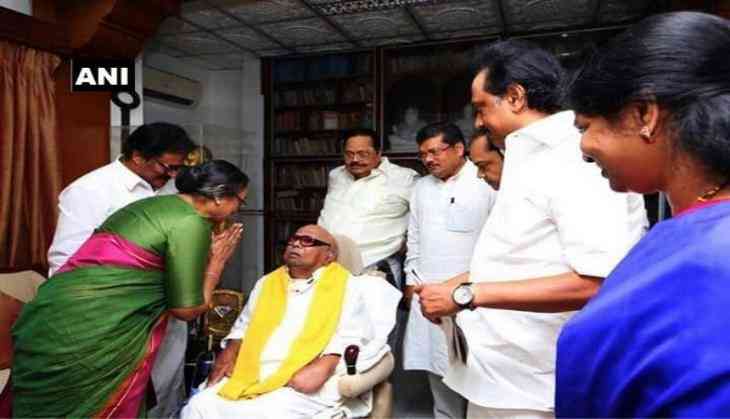 Meira Kumar meets DMK chief Karunanidhi to garner support (ANI)
Opposition presidential candidate Meira Kumar on Saturday met Dravida Munnetra Kazhagam (DMK) chief Karunanidhi at his residence in Chennai to garner support.
Meanwhile, ruling NDA's presidential candidate, former Bihar governor Ram Nath Kovind was also in Chennai where he said that he would function as non-party man and everyone's president, if elected.
The two warring factions of the All India Anna Dravida Munnetra Kazhagam (AIADMK), one of which heads the Tamil Nadu Government have already extended support to the State Bharatiya Janata Party (BJP) leader Tamilisai Soundararajan's choice as the Presidential candidate.
Earlier in the day, the Aam Aadmi Party (AAP) extended its support to Kumar in the Presidential polls.
According to sources, Kumar had called up AAP Chief Arvind Kejriwal herself two days to garner support from his party.
This comes after the former Lok Sabha speaker also appealed to all elected representatives to support her in this election.
The election for the highest office of the country will be held on July 17.
UPA-led by Congress has nominated Meira Kumar against Ram Nath Kovind, BJP-led NDA's candidate for the polls.
-ANI