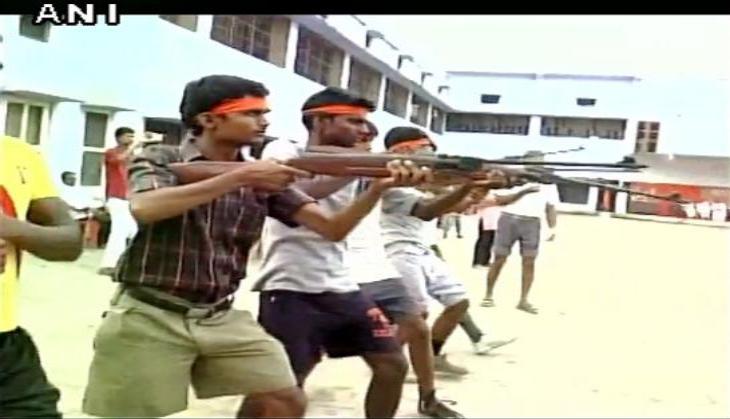 Mahesh Mishra, convenor of the Bajrang Dal's Faizabad and Ayodhya units, was arrested on Wednesday by the Faizabad police for hurting the religious sentiments of Muslims and spreading communal hatred.
Mishra was the man behind the weapons training received by volunteers of the Hindutva group as seen on a video that went viral. An FIR had been filed against unidentified Bajrang Dal workers at Ayodhya police station on Tuesday night.
The video purportedly showed a 'self-defence' camp at Karsevakpuram, the VHP workshop in Ayodhya, on 14 May, in which volunteers who wore skull caps brandished guns, swords and lathis, according to The Indian Express.
The complaint was filed by sub-inspector Shri Niwas Pandey who is in charge of the Naya Ghat police outpost of the Ayodhya police station.
Rajeev Singh, station house officer at Ayodhya police station, said: "As per the FIR, some volunteers in the training camp were depicted as Muslim terrorists while others were presented as Hindu youths of Bharti Sena. The investigating officer would approach media houses to obtain the video. We would start the process of identifying people at the event once we receive the video."
On Tuesday, Uttar Pradesh governor Ram Naik said that there was nothing wrong in self-defence training as self-defence is necessary and every citizen should be trained.