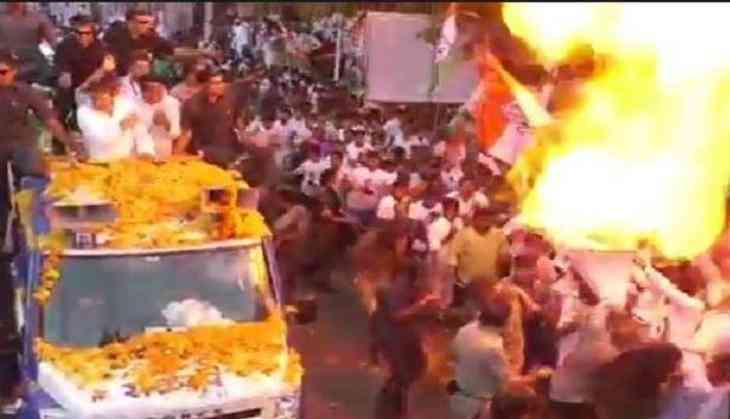 Assembly polls in Madhya Pradesh has arrived and Rahul Gandhi is gearing up for the elections. Congress chief Rahul Gandhi led an 8-kilometre roadshow in poll-bound Madhya Pradesh's Jabalpur district, in which a blast took place.
The blast flames were too close to the minibus in which Rahul Gandhi was seated. There was a moment of panic when balloons released to welcome him, exploded. Congress president had a narrow escape in the roadshow.
As per reports, Rahul Gandhi was going to Narmada Aarti in Jabalpur. This incident happened when an 'aarti thal' to welcome Rahul Gandhi came in contact to gas filled balloons. The balloons caught fire and exploded, the flames rised high.
The incident is said to have taken place at Model Road when Gandhi's cavalcade was passing through, as part of his road-show.
However, Rahul Gandhi is absolutely safe and unharmed after the incident. It is said this incident is also being considered as negligence of Rahul Gandhi's security system. There could be any major accident due to the blast. Even if the blast was small or there was no harm, it was a big mistake by the secuirty team of the Congress president.
In this road show, along with Rahul Gandhi, MP Congress President Kamal Nath and Congress leader Jyotiraditya Scindia were also present. Rahul Gandhi, who arrived on a tour of Madhya Pradesh, first addressed a public meet in Morena. In this meeting, he attacked Prime Minister Modi, he said, "Corruption in India is in the land and the farmer gets its losses. They said that we are fighting the rights of the people. "
"We brought green revolution, white revolution, computer revolution. But Prime Minister Narendra Modi and MP Chief Minister Shivraj Singh Chouhan have made false promises," the Congress chief said. He further added, "I can assure (you) with full confidence that the Congress alone will generate employment for the youth. We don't lie. If we come to power, we are going to provide employment," news agency PTI reported.
Also read: Gujarat Violence: UP, Bihar migrant workers leave Gujarat after protest broke over rape of 14-months-old baby girl