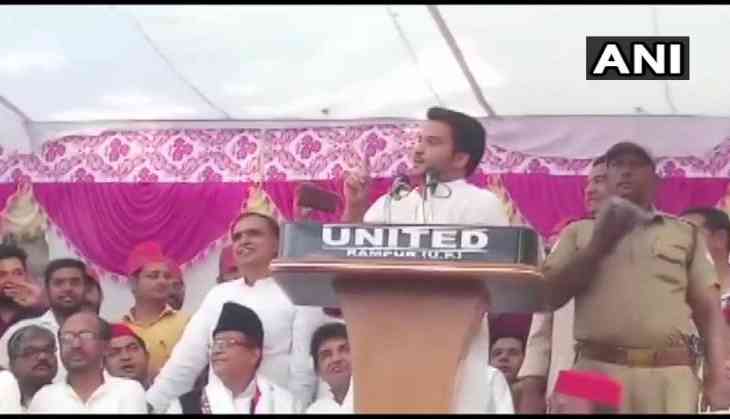 Days after Samajwadi Party (SP) senior leader Azam Khan irked controversy and was hugely criticised for his 'Khaki underwear' remark against his BJP rival Jaya Prada, his son Abdullah comes up with another such remark. As per news agency ANI reports, Azam Khan's son Abdullah termed Jaya Prada as 'Anarkali' by saying we want Ali and Bajrangbali but not Anarkali.
Abdullah Azam Khan while speaking at public rally in Rampur said, "Ali bhi humare, Bajrang Bali bhi chahiye lekin anarkali nahi chahiye (We want Ali and also Bajrang Bali but not Anarkali)."
SP leader Abdullah Azam Khan (son of SP leader Azam Khan) in Rampur: Ali bhi humare, bajrangbali bhi humare. Humein Ali bhi chahiye, bajrangbali bhi chahiye lekin Anarkali nahi chahiye. (21.4.19) pic.twitter.com/geozRjwAej

— ANI UP (@ANINewsUP) April 22, 2019
Anarkali was a famous courtesan in Mughal emperor Akbar's court and was known to have had an affair with his son Jehangir. She was punished by Akbar for the same. Abdullah was speaking in reference to Uttar Pradesh CM Yogi Adityanath's controversial remark that BJP has Bajrangbali and they do not need Ali.
Earlier, attacking rival Jaya Prada, who recently joined the Bharatiya Janata Party (BJP), Azam Khan had said, "I brought her (Jaya Prada) to Rampur. You are a witness that I did not allow anyone to touch her body. It took you 17 years to identify her real face but I got to know in 17 days that she wears khaki underwear." Reportedly, Azam Khan had also called Jaya Prada a "naachne wali".
Reacting to Azam Khan's statement, Jaya Prada had demanded that he should not be allowed to contest the Lok Sabha elections. Azam Khan was banned for his derogatory remark for 72 hours by Election Commission.
Also read: No alliance in Delhi as Congress declares candidates; Sheila Dikshit vs Manoj Tiwari on board