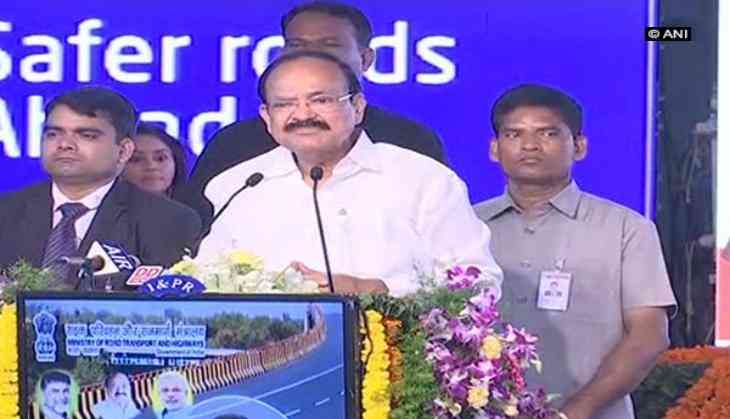 Stressing on the importance of regional languages, Vice President M. Venkaiah Naidu on 3 October urged all not to ignore their mother tongues even as they learn other languages.
"Learn other languages, but but don't ignore mother tongue. Neither Chandrababu, nor Venkaiah, and not even Prime Minister Narendra Modi studied in English medium," Naidu said at an event in Vijayawada where he came to lay the foundation stone for six highway projects.
Andhra Pradesh Chief Minister Chandrababu Naidu recently announced that he will make it compulsory to teach Telugu as a mandatory subject up to at least the tenth standard.
The vice president remarked that he wished the chief minister implements the move from the next academic year itself.
He added that all companies, shopping malls, hotels and commercial spaces in the state must display their names in Telugu.
"Add names in English, Hindi or Chinese, but mother tongue is a must," Naidu said.
Speaking at the occasion, Naidu praised Union Minister for Road Transport and Highways Nitin Gadkari for the latter's "cooperation in completing highway projects".
"As a Vice President, I cannot speak politically, but I can appreciate development activities," Naidu added.
The Vice President also expressed support to the Rally for Rivers campaign initiated by Sadhguru Jaggi Vasudev and his NGO Isha Foundation, and said that interlinking of rivers can solve the problem of drinking water across the nation.
"Consider rivers as sacred ones, keep them clean. They represent our culture," Naidu added.
Addressing the issue of drinking water, Naidu stressed that state government and center should work hard towards completing the multi-purpose irrigation project of Andhra Pradesh, Polavaram project as soon as possible.
He further requested political parties to cooperate in development activities, keeping aside politics for elections.
Gadkari is also the Minister for Water Resources, River Development and Ganga Rejuvenation.
-ANI