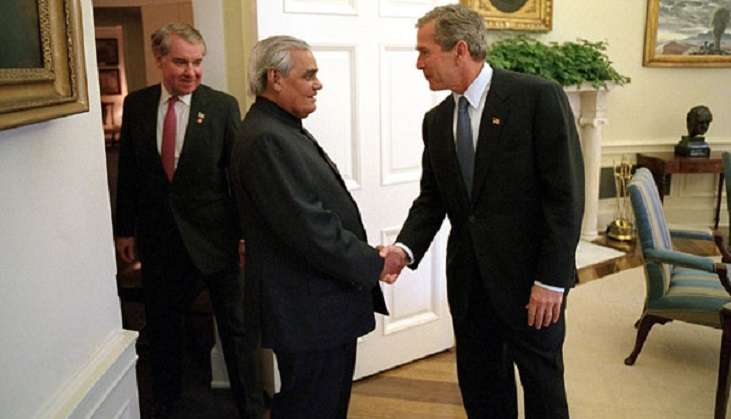 On Sunday, 25 December, Atal Bihari Vajpayee will celebrate his 92nd birthday. The former prime minister will be joined by top leaders and famous personalities.
Here are some interesting facts about him:
1. Vajpayee was the first man to speak in Hindi at the United Nations millennium summit. He's know for his oratory skills. It's also been said that his oratory skills had impressed Jawaharlal Nehru.
2. Vajpayee is first and the only non-Congress leader who has served a fullterm as the Prime Minister. Narendra Modi could soon be the next leader to get this honour.
3. Apart from Nehru, Atal Bihari Vajpayee is the only other Prime Minister to get three successive mandates. He served office from 16 May 1996 - 1 June 1996, 19 March 1998 - 22 May 2004.
4. Vajpayee participated in the 1942 Quit India Movement and was imprisoned for 23 days. He was just 18 years old back then.
5. Vajpayee is a critically acclaimed poet. His written several books on poetry.
Famous quotes of Atal Bihari Vajpayee
Here are some interesting quotes by Atal Bihari Vajpayee:
1. I would like that no citizen of the state feels alone and helpless. The entire nation is with them.
2. I have a vision of India: an India free of hunger and fear, an India free of illiteracy and want.
3. Poverty is multidimensional. It extends beyond money incomes to education, health care, political participation and advancement of one's own culture and social organisation.
4. Global interdependence today means that economic disasters in developing countries could create a backlash on developed countries.
5. Terrorism has become a festering wound. It is an enemy of humanity.
6. I dream of an India that is prosperous, strong and caring. An India, that regains a place of honour in the comity of great nations.
7. You can change friends but not neighbours. (Aap mitra badal sakte hain, padosi nai)