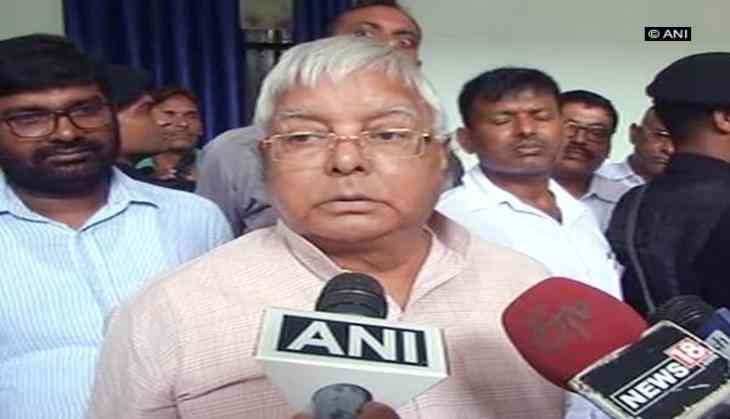 Rashtriya Janata Dal (RJD) chief Lalu Prasad Yadav on 17 August accused Chief Minister Nitish Kumar of 'murdering democracy' in Bihar.
The statement has come after the Bihar Government denied permission to former deputy chief minister Tejashwi Yadav to hold a public meeting in Bhagalpur today.
Lalu further took a dig at Nitish over his 'zero policy' on corruption and demanding that the accused in Srijan scam should be put behind the bars.
Talking to the media here, the RJD supremo said, "The CBI should probe into the Srijan scam and put these people behind the bars."
Tejashwi was to hold a public meeting in Bhagalpur today where he was expected to target Nitish Kumar and Deputy Chief Minister Sushil Kumar for their involvement in the Srjan scam.
He took to Twitter and wrote, "I was supposed to address a meeting in Bhagalpur, but the local administration as imposed Section 144 in Sabour block where the meeting was planned"
A special investigation team (SIT) of the Economic Offences Unit (EOU) has been inquiring the scam.
According to reports, the public money which was kept in the state government and the district administration bank accounts had been diverted to the bank accounts of a Non-Governmental Organisation (NGO) Srijan, its employees and bank officials.
The NGO was founded by Manorama Devi and is being run by her son and his wife after her death.
According to sources, an audit team of the finance department has already been sent to Bhagalpur.
Meanwhile, three FIRs have already been registered at the Bhagalpur Kotwali Police Station against the accused.
-ANI