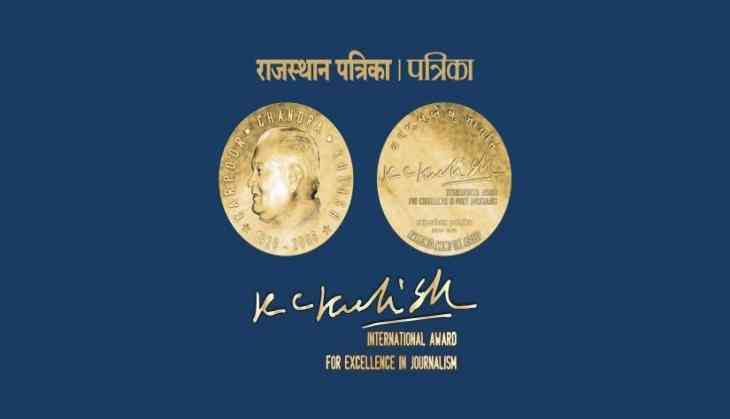 The 'KC Kulish International Award for Excellence in Journalism', given in memory of the founder of Rajasthan Patrika, Karpoor Chandra Kulish, will be presented by President Pranab Mukherjee at a grand ceremony to be held in Mavlankar Auditorium at Delhi's Constitution Club, on 20 March 2017.
The award ceremony is scheduled to begin from 10.30 am. Prior to the ceremony, there will also be a discussion on "Independent Institutions". Former Chief Election Commissioner SY Qureshi and Director of the Tata Institute of Social Science Prof S Parasuraman will be speaking at the occasion.
This award of $11,000 will be given to Wanjohi Kabukuru's team for the story How East Africa Lost Its Innocence in New African magazine, London for the year 2014.
The award for the year 2015 will be awarded to Rakesh Sharma and his team for an investigative news series Sexual Harassment in Nari Niketan, published in Amar Ujala.
A total of nine stories were shortlisted for the year 2014 and 2015 from the entries received from across the country and around the world. Among them, the Week Magazine's The Cut and the Heart by Mini P Thomas, Kolkata's Bartaman newspaper's Talibani Rules Imposed by Islamic Fundamentalist in Murshidabad-West Bengal by Rantideva Sengupta, R Samban's Waiting for Mercy, Dainik Jagran's Ganga Jagran by Harikishan Sharma were selected for 2014.
For the year 2015, five stories have been shortlisted, which include Crores scam in Government Paddy procurement by Kunal Verma, Sitting Over a Gold Mine with a BPL Card and Rumour on Social Media Flare-Up Communal Tension by Dinesh Kumar of Central Chronicle, Chhattisgarh, Let This Flowers Bloom by Santosh John Thuval of Malayala Manorama, Kerala, CJ Upset, Right to Governer: CM Meets Him to Clearly Government's Point by Umesh Raghuvanshi of Hindustan Times Lucknow.
The 'KC Kulish International Award for Excellence in Journalism' was instituted in 2007 to promote the best works of journalist teams. It is also the world's largest journalism award in terms of prize money.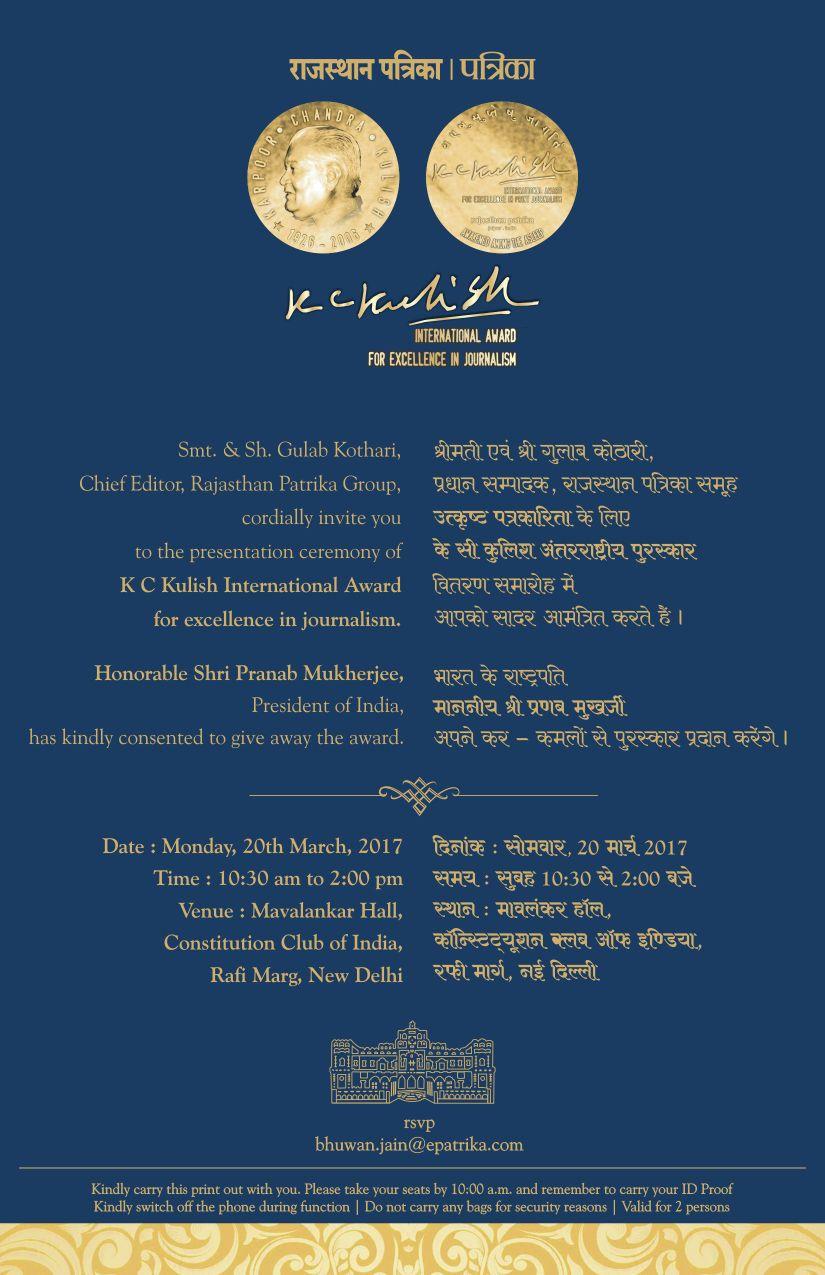 In the first year, 2007, the award was given to the team of Hindustan Times and Pakistan's Dawn newspaper by the former President of India Dr. APJ Abdul Kalam. In the year 2008, the then Hindustan Times team was rewarded by the then Lok Sabha Speaker Meira Kumar.
In 2009, the then Prime Minister, Dr. Manmohan Singh gave the award to the team of Anas Aremeyaw Anas of Ghana and the then Madhya Pradesh Chief Minister Shivraj Singh Chauhan awarded the team of International Consortium of Investigative Journalist (ICIJ), in 2012. In 2013, former Chief Justice of India R.M. Lodha jointly gave these awards to the team of the Washington-KICIJ and the Indian Express.
Jury
The judicial panel formed for evaluation of the entries received this year includes social worker Medha Patkar, senior journalist Vijay Rana, who was associated with BBC London and Gulab Kothari, head editor of the magazine group.