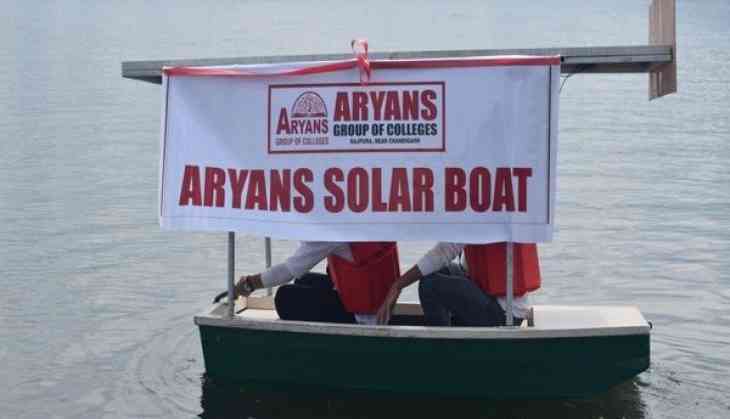 In a bid to encourage tourism in Kashmir, a team of Kashmiri students, studying engineering in Chandigarh's Aryans Group of Colleges have made a solar boat for Dal lake.
The two-seater boat, with the load carrying capacity of 150 kg, was launched today in function held at Nehru Park in Srinagar.
The innovation was carried out by 12 B.Tech students, mostly from Kashmir valley along with other team members from Jammu.
The boat which is made up of Deodhar frame and plywood body with a front steering system, is seven feet two inch long, three feet six inch wide and one feet four inch deep.
Danish Rafi, one of the members of the team told ANI about the working of the boat.
"The boat's battery gets charged by the solar light. This battery then gives power to the motor. There is a throat a lot steering behind the boat which is used to give direction to the boat," he added.
Rafi further said that it took 40 days to make the boat and its cost was Rs. 80,000.
"We are still going to do modifications in it. We are going to include rotary panel and increase the length and width of the boat. Right now it just has a capacity of two people, later it will increase to 5-10 people. Moreover, as Kashmir witnesses winter most of the times, we have given the facility to charge the battery directly through electricity," he added.
Meanwhile, Syed Abid Rasheed, Srinagar Deputy Commissionerapplauded the hard work of students and staff.
"Dal lake is one of the most renowned freshwater lakes and the way the students have used their creativity to bring a new innovation is commendable. We must encourage such innovations and make sure they become marketable in the near future. We will do whatever we have to do in the administration in order to promote these kids," he added.
--ANI