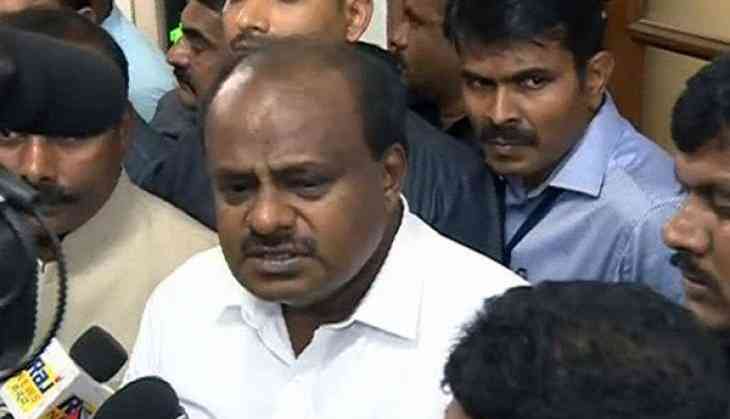 Welcoming the Bharatiya Janata Party's (BJP) three-day Padayatra, Karnataka Chief Minister HD Kumaraswamy on Thursday said that the party should also appreciate him for waiving farmers' loans in the state.
Talking to the media, the Karnataka Chief Minister said, "I welcome BJP's Padayatra, at least they are fighting in favour of the farmers. I am waving farmers loans, they should appreciate me for it."
The BJP, calling for a complete waiver of all farm loans, began the Padayatra from Ramanagaram district to Bengaluru from today.
The Padayatra kicked off from Kengal Anjaneya temple, which is located in Chief Minister Kumaraswamy's constituency of Channapatna.
However, Kumaraswamy had recently asked as to why those farmers who have been protesting for a complete loan waive did not vote for him in the assembly election in May.
"There was a strike yesterday in Koppal district demanding full farm loan waiver. I want to ask those who are observing strike, why didn't you remember Kumaraswamy while voting?" Kumaraswamy said on July 23 while addressing a gathering.
On July 5, Kumaraswamy announced a partial loan waiver of Rupees 34,000 crore, which will benefit farmers whose loans are less than Rs 2 Lakh.
The Kumaraswamy-led Janata Dal (Secular) had resolved to waive farm loans borrowed both from cooperative and nationalised banks within 24 hours of formation of a full-fledged government of their party.
The state has decided against waiving off higher value crop loan.
Apart from this, to help the farmers who repaid the loan within time, the Chief Minister had decided to credit the repaid loan amount or Rs.25,000 whichever is less to each of the farmer's account.
(ANI)