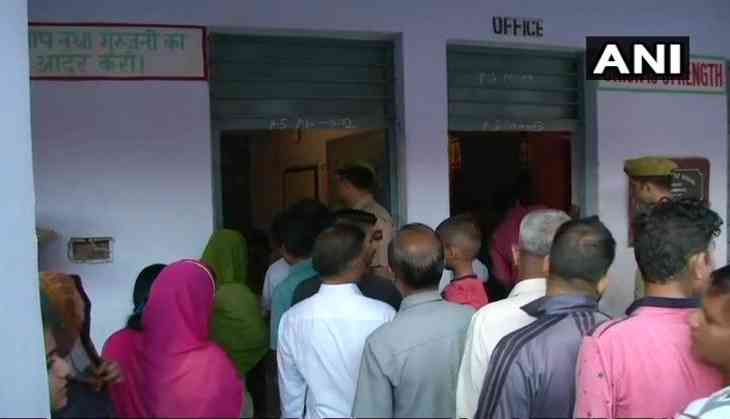 Amidst heavy security, the voting began in the Jammu and Kashmir'S urban local body polls this morning. Even under security, one of the BJP candidate Adil Ahmad Buhru from ward 15 of Bandipora district was injured after a group of miscreants pelted stones at him, while he was on his way to caste vote at Dachigam.
Less than 2% electorate have come out to cast their votes in the Urban local body polls on Monday in 83 wards in the first two hours of polling for the first of the four-phased elections in the valley amidst tight security.
Nearly 1600 voters have exercised their franchise till 9.00 am at the 150 pollings stations set up in 83 wards across Kashmir Valley where polling is going on today," an official said.
Although polling is accelerating in the north Kashmir region as more than 10% of 4,700 voters had cast their votes in the first two hours for Kupwara Municipal Committee, followed by Handwara town which saw about 5.5% voting.
The polling began at 7am and will continue until 4pm, the election is being held for 83 wards in the valley as 69 other wards were won uncontested. The current polling is happening at 150 booths and out of this, 138 polling stations are categorized as hypersensitive.
The urban local body polls have been boycotted by the two major political parties of the state: National Conference and PDP over the Article 35A issue, which is facing a legal challenge in the Supreme Court.
A low voter turn out signifies the condition of law and order in the state where militants and terrorist have threatned the civilians not to participate the voting and they even killed two National Conference workers to illustrate the terror. Even reports have come where citizens said that they are not aware who there candidate is and what sort of election is happening when there is so much of tension brewing in the air.
Also read: Jammu and Kashmir civic polls: Amid record low turnout in four districts, residents say 'we don't even know
#JammuandKashmir: Union Minister Jitendra Singh and former Deputy CM Kavinder Gupta cast their votes in Jammu during the first phase of local body elections. pic.twitter.com/f12N7xUREq

— ANI (@ANI) October 8, 2018