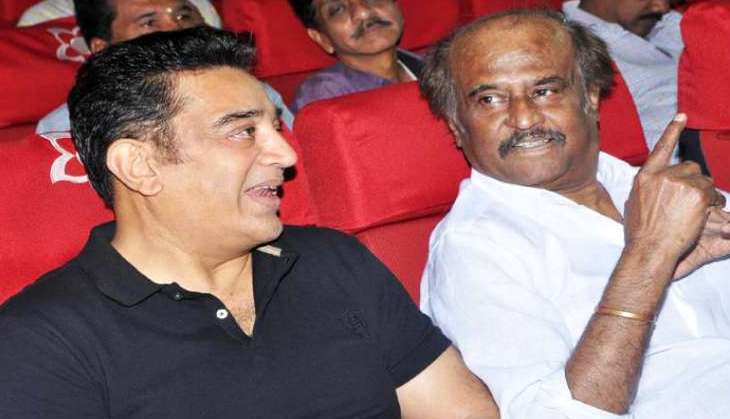 Tamil stars Rajinikanth and Kamal Haasan on Monday expressed concern over the violence that erupted here in the backdrop of the jallikattu protests and called for restraint by the agitating students.
Rajinikanth said the protests by the students 'should be etched in golden letters' in Indian history and has drawn wide attention as people from various walks of life like youth and women had supported them and carried forward the dignified and peaceful protests.
"At this juncture, I am grieved to see certain incidents," he said in an apparent reference to the violence and the police crackdown.
He said some "anti-social elements" were now trying to bring disrepute to the students' movement and the goodwill earned by them and asked them not to allow this.
"You should not allow them to bring disrepute to your movement and goodwill, besides the police who have been supportive of your protests," he said.
"I humbly request you to immediately end this protest," he said in a statement.
With the Centre and state government assuring for a permanent solution for the conduct of the sport, "we have to respect that," he said.
Responding to the developments, Haasan came out in support of students and youth, saying "aggressive police action on students' passive resistance will not bear good results" and also urged the protesters not to resort to violence.
"This is a mistake. Aggressive police action on students' passive resistance will not bear good results", he tweeted.
He urged students and youth not to resort to violence.
He also took up the matter with Prime Minister Narendra Modi, while appealing to the protesters to maintain calm.
"Have informed our Hon'ble PM through the best of my connections. The Hon'ble Justice seekers (who are protesting for jallikattu) will have to maintain peace", he tweeted.
"Spoke to Hon'ble CM of TN (O Panneerselvam). The looming question has been asked of him. He will answer soon. They are eager to satisfy you. Stay calm", he told the protesters.
The 62-year-old actor also sought to know why police took action when the students were waiting to see what decision the Tamil Nadu assembly took on the matter.
"A looming question. When the students were calmly waiting to see what decision the Assembly takes, why preempt with police action", he said.
He requested police to stop 'harassing' the peaceful protesters. "Let the CM offer solutions arrived at the Assembly", he added.
--
PTI