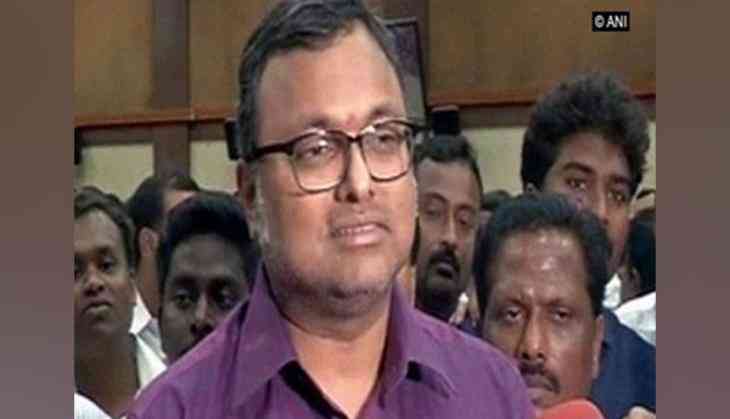 In a major setback to former Finance Minister P. Chidambaram's son Karti Chidambaram, the Supreme Court on Tuesday refused to grant him interim relief and posted the issue for hearing to March 8 in connection with the INX media case.
The Apex Court issued a notice to the Enforcement Directorate (ED) on the Money Laundering Act (PMLA) case registered against Karti.
Congress leader Kapil Sibal and senior lawyer appearing for Karti had pleaded to the top court for interim relief in the case.
"We are willing to co-operate in every way and we also did so. I am worried about my arrest," Sibal told the Top Court
Meanwhile, CBI has moved an application seeking an extension of remand for Karti saying that presence of accused is actually needed in order to serve some important and specific purposes connected with the completion of investigation in the case.
"Karti also need to confront the accused with documents, co-accused and unearth the larger conspiracy and the role of other accused persons involved in the case," CBI said.
CBI said that during the custodial interrogation so far, CBI was able to gather some important information even though the accused has remained evasive even while answering the routine questions.
Karti was arrested on February 28 from Chennai by the Central Bureau of Investigation (CBI) and on March 1, he was sent to custody till March 6.
On March 4, Karti was taken to Mumbai by the probe agency in the morning to confront the ex-directors of INX Media Ltd. On March 5, he had moved the Supreme Court to file a petition against the decision of the ED and CBI.
In May 2017, the Enforcement Directorate (ED) had registered a money laundering case against Karti for his role in facilitating Foreign Investment Promotion Board (FIPB) clearance for INX Media Ltd and Peter and Indrani Mukerjea.
Karti illegally took service charges for getting the FIPB clearance to the INX Media for receiving funds from abroad worth Rs. 305 crore in 2007 when his father was the finance minister in the Congress-led United Progressive Alliance (UPA) government.
--ANI