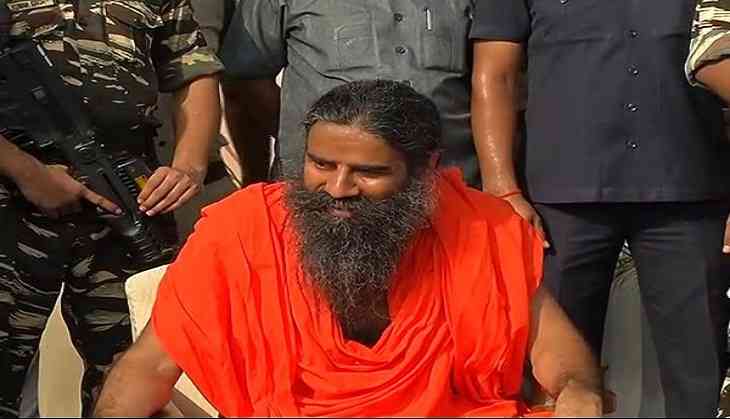 Lauding the success of the World Yoga Day, Yoga Guru Baba Ramdev on Wednesday informed that 24 new world records have been set on the grand occasion.
Appreciating the Bharatiya Janata Party's (BJP) efforts to make the World Yoga day a hit, Ramdev said, "Prime Minister Narendra Modi initiated that a new world record should be set in Yoga. Due to BJP chief Amit Shah's guidance, and Gujarat government's support, the event was a massive hit and we were successful in setting 24 new world records."
Ramdev further said that Yoga is an integral part of the Indian culture and India should dominate the world in Yoga.
"Further, I would be visiting U.S. and Canada for celebrating the Yoga day, and I really wish that the way in which the West dominates the world in terms of technology and economy, India should lead the world in Yoga", he added.
Baba Ramdev along with the government's support aims at operating 11 lakh free yoga classes across the country in the coming 3-5 years.
"We have taken an oath that in the coming 3-5 years, 11 lakh free classes will be created across the country," he said, adding that his venture Patanjali would fully support the cause.
While reminiscing his journey of Yoga, he said that he had no idea that one day, the campaign to promote Yoga would become such a huge success.
"This has been the biggest day of Yoga in my life. When I started my journey 25 years ago, by organising a camp in Surat, I had no idea that one day the campaign would become so massive."
The event witnessed more than 3 lakh people.
BJP Chief Amit Shah along with Gujarat Chief minister Vijay Rupani and other government officials were present at the event.
A four-day camp was organised in Ahmedabad ahead of the World Yoga Day.
Earlier on Wednesday, the Prime Minister addressed a gathering in Lucknow on the occasion of Yoga day.
"I am happy to see so many Yoga institutes being opened over the last three years. Demand for Yoga teachers is increasing.
Apart from fitness, wellness is important. Yoga is a medium to achieve wellness," Prime Minister Modi said.
He said that Yoga is an integral part of the Indian tradition and it unites the country.
-ANI