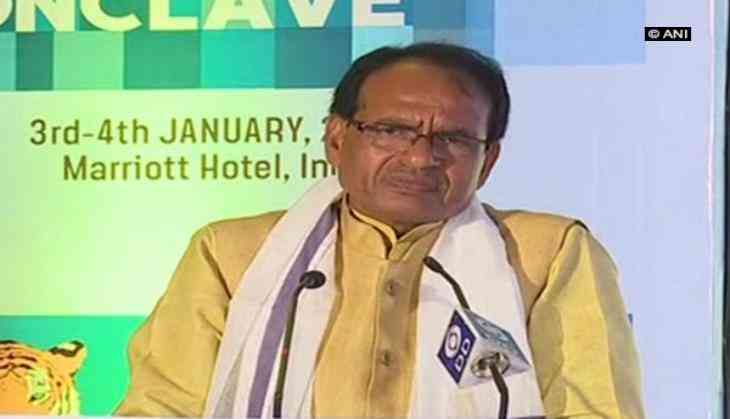 MP Chief Minister Shivraj Singh Chouhan (ANI)
If there is any answer to terrorism, then it is in India's thinking of all are equal, said Madhya Pradesh Chief Minister Shivraj Singh Chouhan on 4 January.
"When I see the incidents of terrorism across the world then it comes to my mind, If there is any answer to terrorism then it is in India's thinking that says that the same consciousness is in all, so why to discriminate," Chouhan said.
He made this remark while addressing Friends of MP Conclave, 2018 at a hotel here.
Set up on the lines of Pravasi Bhartiya Divas, people of Madhya Pradesh's origin residing in other countries are participating in the two-day event.
"India is changing rapidly. Quick decisions are being taken under the leadership of Prime Minister Narendra Modi. Policy paralysis has ended. The economic development rate is increasing," Chouhan said.
He added that currently India's economic development rate is not far behind China but in the coming days it would surpass China's economic development rate.
"In order to fulfil Prime Minister Modi's dream of New India by 2022, we are working in the direction of making New Madhya Pradesh," Chouhan said.
Briefing the audience about achievements of the state, Chouhan said, "Madhya Pradesh's average growth rate is around 10 percent and agriculture growth rate from last five years is 20 plus percent. Sometimes, Madhya Pradesh even supplies power to Delhi also. We have also successfully implemented river linking in the state."
He also talked about highlights of various welfare schemes being run by the state government.
"I dream with open eyes and don't leave any stone unturned to fulfil them. This is the reason Madhya Pradesh is changing," Chouhan said.
He lauded Non Resident Indians (NRIs) of Madhya Pradesh for bring laurels to the state.
"You succeeded in your respective careers on a foreign land but it makes us proud that you belong to Madhya Pradesh," the Chief Minister said.
Over 300 participants from across the globe are participating in the conclave that started on Wednesday.
The event started off with a performance by the Indian Ocean band. The felicitation ceremony for the Indian women's cricket team was another highlight of the evening, wherein the chief minister presented a sum of Rs 50 lakh to the team.
The first edition of the event was held in the U.S. in 2016 and the second one in the U.K, last year.
-ANI