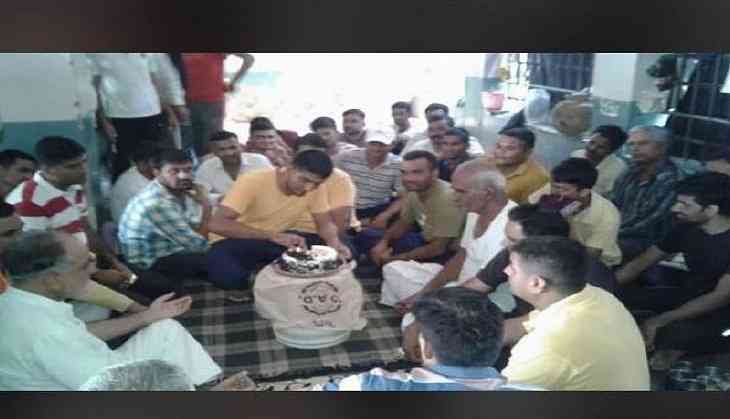 After a photo of hard-core criminal Rakesh Manju , who is accused of a murder, celebrating his birthday in Jaipur Central Jail has gone viral on social media, a controversy erupted over the functioning of the jail and the violations of rules.
In the photo, Manju can be seen cutting the cake on his birthday while other inmates are participating in his celebration.
Among the other criminals who are participating in Manju's birthday celebration are the Bhanwari Devi murder accused – Paras Ram Bishnoi and Kailash Jakhar.
According to the report, the jail authorities are saying that it is them who allowed bringing in the sweets inside the jail clarifying that it is as per rules set by the jail manual.
But the authority is clueless of how the cake was brought in and the photo clicked that has gone viral on the social media. According to the Patrika.com, the Jail Superintendent Kailash Trivedi ordered a probe into the matter to determine whether there is a violation of the jail manual rules.
Earlier, the authorities seized over 10 android mobile phones from the inmates when a raid was conducted in the jail. The attachment of such number of mobile phones stirred furor among jail authorities as there was blatant violation of rules. The phones were kept underneath a barrack with SIM cards, charges and headphones.
Also read: This British couple booked the entire train from Coimbatore to Ooty for honeymoon trip; they paid this whopping amount for the service