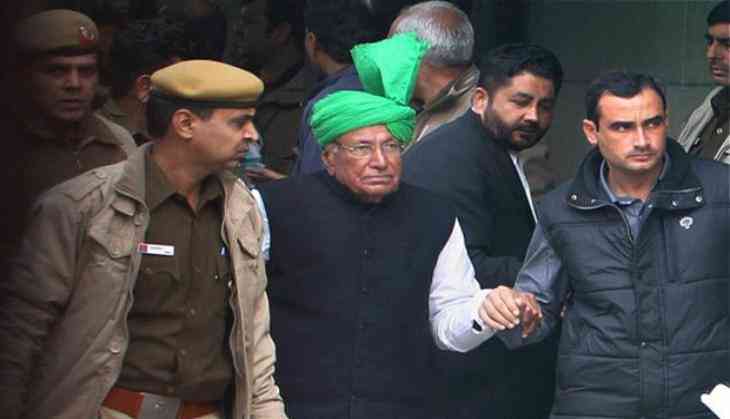 At the ripe old age of 82, former Haryana Chief Minister Om Prakash Chautala has passed his higher secondary examination in the first division, while serving out a 10-year sentence in Delhi's Tihar jail.
Chautala, who was convicted in the teachers' recruitment scam case, is now planning to pursue a BA course, his younger son and senior INLD leader, Abhay Singh Chautala said here today.
"He appeared for the Class XII examination conducted by the National Institute of Open Schooling at the centre set up for prisoners at Tihar Jail. The last examination was held on April 23. He was out on parole during that time, but as the examination centre was inside the jail premises, he went back to jail and sat for the examination," Abhay said.
The senior Chautala was out on parole last month to attend the wedding of his grandson and Hisar MP, Dushyant Singh Chautala. His parole ended on May 5.
"He has been in prison for the last four-and-a-half years. My father thought of putting his time to best use and pursue his studies," Abhay said, adding that he had cleared the exam in the first division.
According to him, the Indian National Lok Dal President was forced to discontinue his studies during his school days due to family compulsions.
"When he was in school, my grandfather, Chaudhary Devi Lal was into politics. Who would take care of the large family, who would look after farming? These were some of the issues which my father, being the eldest member of the family after Devi Lal, had to take care of. This forced him to leave his studies in between and the responsibility to educate his younger siblings also fell on him. Later, he himself entered politics and found a little time to pursue his studies," Abhay told PTI here.
He said his father often visits the Tihar jail library, where he reads newspapers and books. "He also asks the jail staff to arrange for his favourite books."
An unlikely source of inspiration for the former chief minister was Manu Sharma, serving a life term for killing model Jessica Lall in 1999, who was pursuing an LLB course while being lodged in the prison.
"Manu's Cell in Tihar prison is also adjoining to the one where Chautala sahib is lodged and saw him pursue higher studies from prison," he said.
Abhay hoped other prisoners would take encouragement from the achievement and realise the importance of education.
-PTI