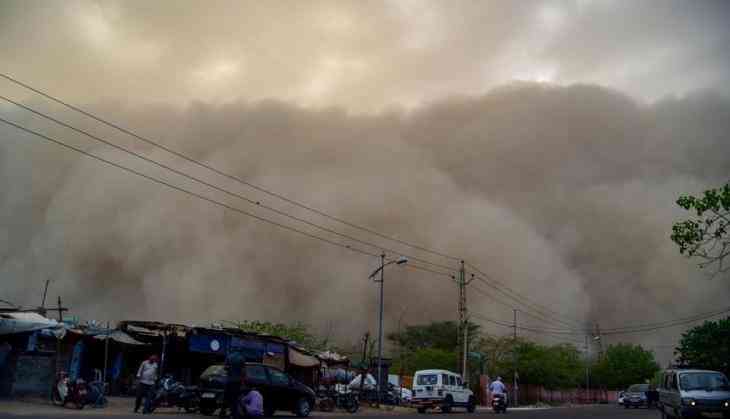 The northern parts of India have witnessed thunderstorms and gusty winds on Monday late night. The IMD has issued a high alert in several northern Indian states, including Rajasthan and Uttar Pradesh and Delhi on Tuesday. according to the weather forecast by India Meteorological Department (IMD). The Haryana government has issued a high alert in the state and school, colleges have been shutdown in the state. Even schools will remain shut in parts of Uttar Pradesh and Rajasthan. A high alert has been issued in all the states. The AAP government has come out with a list of "dos and don'ts".
The late-night dust storm that hit Delhi and several northern parts have also affected the flight operations at India Gandhi International Airport. A high-velocity dust storm hit parts of north India on Monday night with a wind speed of up to 70 kilometres per hour, the Met office said.
#WATCH Massive sandstorm hits Bikaner's Khajuwala, in Rajasthan pic.twitter.com/YZV4X3GyTl

— ANI (@ANI) May 7, 2018
Delhi adjoining states Uttar Pradesh, Haryana, Punjab and Rajasthan that witnessed gusty winds and squalls affected the visibility in the area, power cut and damage of properties. Trees and electricity poles were uprooted in several areas with reports of power outages.
As per reports, authorities have issued a list of dos and don'ts and shut schools in the wake of the weather department warning. While the Noida and Gurugram authorities have ordered the closure of all schools, the Delhi government has closed only the evening schools.
Visuals of dust-storm hitting the Pragati Maidan area of Delhi. Following thunderstorm and dust storm alert, all evening schools to remain shut tomorrow. pic.twitter.com/DM7i7zJebx

— ANI (@ANI) May 7, 2018
Also read:Karnataka Election 2018: Congress leader Siddaramaiah slaps legal notice on PM Modi, Amit Shah and Yeddyurappa over 'Sidda-Rupaiya' jibe
"While a western disturbance would hit the western Himalayas and the plains of north India, a cyclonic circulation has also developed over north-east Rajasthan. There is also a trough of low pressure between Rajasthan and Madhya Pradesh. These systems would trigger rain and thunderstorms across north India and Delhi-NCR," said Srivastava.
#WATCH: Dust storm hits Delhi's RK Puram. According to India Meteorological Department (IMD) a spell of rain/ thunderstorm accompanied with squall (wind speed 50-70 kmph) likely to occur over Delhi and NCR during next 3 to 4 hours. pic.twitter.com/xXc7AHHs5T

— ANI (@ANI) May 7, 2018
Also read: Kathua rape case: Supreme Court transfers Kathua girl's gang-rape and murder case to Pathankot; rules out CBI probe
Scientists, however, said it was unlikely the approaching storm would be as potent as its May 2 predecessor. "We are expecting some rain and thunderstorm activities over northwest India. However, prevailing meteorological conditions don't suggest that the intensity of these storms would be similar to the one that had hit on May 2," said M Mohapatra, head of weather services at IMD.
#WATCH: Massive dust storm hits Uttar Pradesh's Meerut. All educational institutions to remain closed today due to thunderstorm alert for the region. pic.twitter.com/61WhZgXbon

— ANI UP (@ANINewsUP) May 7, 2018