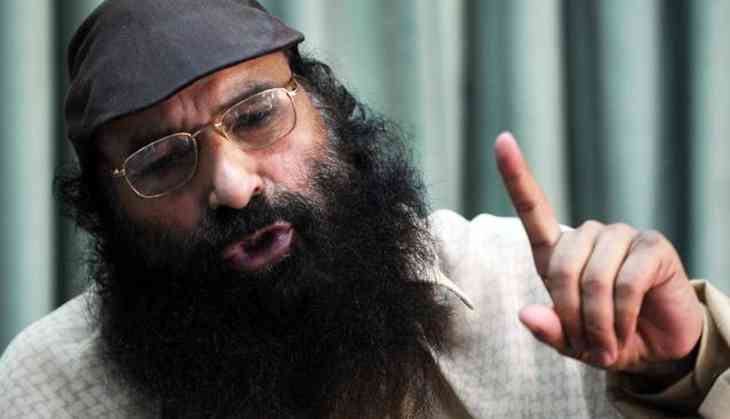 After being branded as a 'global terrorist' by the US on June 26 before Prime Minister Narendra Modi's first meet with President Donald Trump, the commander-in-Chief of Hizbul Mujahideen, Syed Salahuddin, has said that he can attack India any time.
In an an interview to a Pakistani Channel, Salahuddin admitted to carrying out attacks in India, while he further claimed that he could target India any time he wants.

"Khud India ke andar hamare bohot saare supporters hain, jo hamse hamdardi karte hain. Humne chand kaarvaiyan karke dikhai hain. Lekin 9/11 (Mumbai attack) ke baad international scenario badal gaya, " said Salahuddin in an interview to a Pakistani news channel.
Not only this, but he also mentioned Kashmir as his home and added Hizbul Commander Burhan Wani's death has caused an uprising at his home(Valley). The US labeled Global Terrorist further claimed that he has supporters throughout the country who had carried out the attack in past and will do it again.
After saying this, he further hinted of targeting Israel, due to its growing relation with India. "Jis tarah Israel-India ko support kar raha hai... Bahri duniya mein hamare bohot supporters hain." The terrorist also claimed that Hizbul has supporters not only in India but across the world.
Salahuddin also challenged India and said, "I challenge India to remove their forces from Kashmir for three days and then fight the elections there. Only then will you see how Kashmiris will vote. You will see whether Syed Geelani, Mirwaiz, Shabbir Ahmed Shah, Yaseen Malik or Syed Salahuddin will come out as the leader or someone else entirely. The whole world will know who the genuine leader of Kashmir is." He further said that Pakistan is not doing enough to support Kashmir.
When Salahuddin was asked if being branded as global terrorist by US government had affected his or the image of the terrorist outfit he said, "My health and that of my outfit has increased quite a bit since then. You must have yourself seen how flower petals were showered at me after the announcement was made."