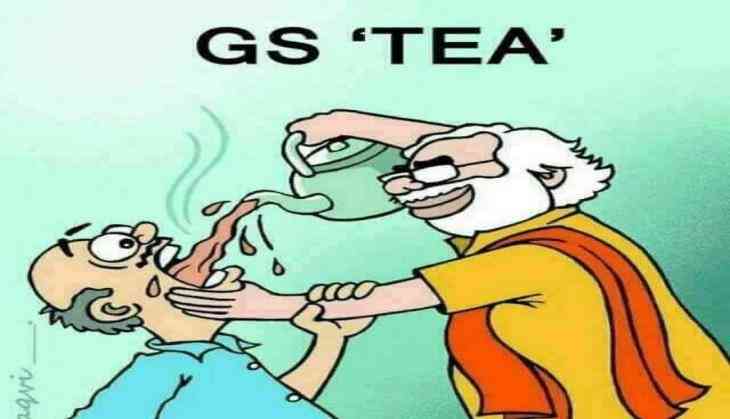 Prime Minister Narendra Modi on Sunday morning greeted people on one-year completion of Goods and Services Tax. One Nation, One Tax, One Market became a reality one year ago with the stroke of midnight on 1st July 2017. The GST policy aims to streamline the taxation structure in the country by doing away with various taxes imposed by states and Centre and introducing a unified tax system.
Well, tweeple have their different perspective on GST and its policy, one of Twitter users says, GST implementation is an exemplary example of how Modi Sarkar can ruin a brilliant idea into a mess. The situation has turned so worse that small businessmen are being forced to commit suicide due to government's incompetence to implement GST.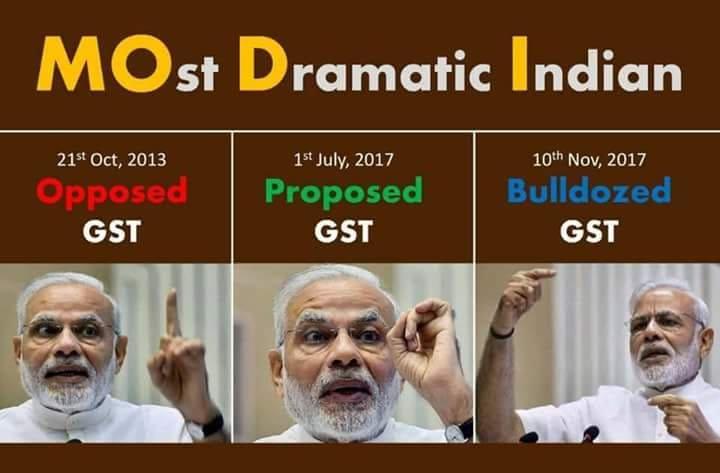 Not only BJP but Twitter is also celebrating GST, calling it failed GST---GS Tea. Let's have some look how Tweeple are celebrating the first anniversary of GST. Here's how tweeple celebrates GST's 1st anniversary.
The real supporters of bjp Kalia( businessman ) r also feeling betrayed by Gabbar #FailedGST pic.twitter.com/LJB5SvSSrU

— Rahul sharma (@Helpdes99146637) July 1, 2018
Every Economic Decision Taken by
the #SuitBootLootKiSarkar has
Been to Sabotage the MSME, Unorganized & Agri Sectors, to Facilitate Monopolies by the Rich Cronies of Crony Sevak #FailedGST #GabbarSinghTax#DemoDisaster pic.twitter.com/EsTuUCvZBc

— Geet V (@geetv79) July 1, 2018
Crony Sevak has Systematically
Targeted & Ruined Job-Creating MSMEs
With Both Faulty #FailedGST &
With #DemoDisaster pic.twitter.com/9ic5dzOoy5

— Geet V (@geetv79) July 1, 2018
Complex tax? Yes
High tax rates? Yes
Heavy compliance burden? Yes
Hurt exports? Yes
Hurt small businesses? Yes
Hurt economic growth? Yes

What the hell is Modi govt celebrating?#FailedGST

— Salman Anees Soz (@SalmanSoz) July 1, 2018
A Horrific Year Of GST

➡️A 'Simple' tax with 5 tax slabs

➡️1% of registered businesses pay 80% of the tax

➡️20bn tax evaded in two months

Still call it a success, Mr Modi#FailedGST pic.twitter.com/40pHrZ5Pch

— ETHAN HUNT (@hunt_bhai) July 1, 2018
We will not allow GST. For us it's 'Gujarat Sabotage Tax'. - Modi

GST is going to change India's economy. - Modi

GST is short-term pain but long-term gain. - Modi

GST Decision 'not taken by PM Modi alone'. - Modi

GST was Congress's decision. - Modi#GSTForNewIndia#FailedGST

— Pavan Sarkar (@EbullientMind) July 1, 2018
Henceforth, #CADay & #GSTDay will be celebrated on the same day !

For CAs, Its like sharing birthday with marriage anniversary !!! 😂😂😂
It's party time #FailedGST #GSTDay #GSTForNewIndia #ICAI pic.twitter.com/LX75l0jokP

— Meena_CS (@c_meena_s) July 1, 2018
Modi ji's GST is as simple as these traffic Lights are ..
Keep guessing #FailedGST pic.twitter.com/SgSMfxUGxk

— Durlabh (@Raresidhu) July 1, 2018
Also read: GST Day: As BJP celebrates one year of GST calling it 'cooperative federalism'; Congress state it as a 'Grossly Scary Tax'