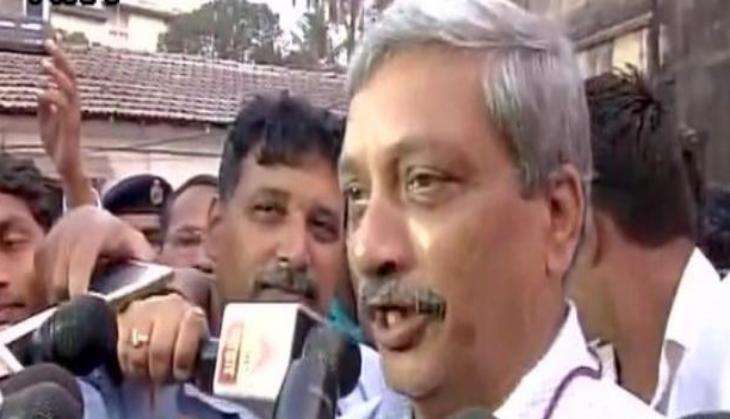 Amid speculations about Manohar Parrikar being projected as the Chief Ministerial candidate by the Bharatiya Janata Party (BJP), the Defence Minister continued to remain mysterious about the development even on voting day, 4 February.
When posed a question over him returning to the state as its chief, dubbing himself as a party's man, Parrikar said that he has lost couple of kilo's ever since he moved to Delhi and that he misses Goan cuisine.
"I am a party's man, I will do what party says, though, I have lost about four kg in Delhi, the main reason is food. Now you can interpret in whatever way you want," he told the media here after casting his vote.
Also Read: Goa, Punjab to create history, claims AAP chief Arvind Kejriwal
"Our initial reports indicate a beginning of a very good turnout and I expect like last time 2012 there was 84 percent voting, this time it may even exceed 84 percent this time. Goa votes very heavy. This is a specialty which the BJP has inducted in the politics of Goa to increase the voting. BJP expects mandate with two-third majority," the minister added.
Retorting to the criticism from the Opposition parties for his involvement in the Goa Assembly elections, Parrikar said he was "the leader of the state".
Polling for 40 assembly seats began early today in the state as voter turnout of 15 percent was witnessed till 9 a.m. The numbers are expected to increase.
Also Read:Goa Elections 2017: Pink teddy bears for first-time women voters
North Goa recorded a voting percentage of 16 percent, while South Goa recorded 14 percent.
In an endeavor to encourage female voters in Goa, the first time women-voters will be given pink teddy bears at the pink "women-only" polling booths that have been set up in every constituency of the popular holiday state.
Pink balloons and pink posters with women empowerment messages have also been installed at the polling booths.
About 32 thousand young voters will be exercising their franchise for the first time and women voters outnumber men this time.
40 'all-women' managed polling stations have been set up to motivate women's participation in the electoral process.
--With ANI inputs