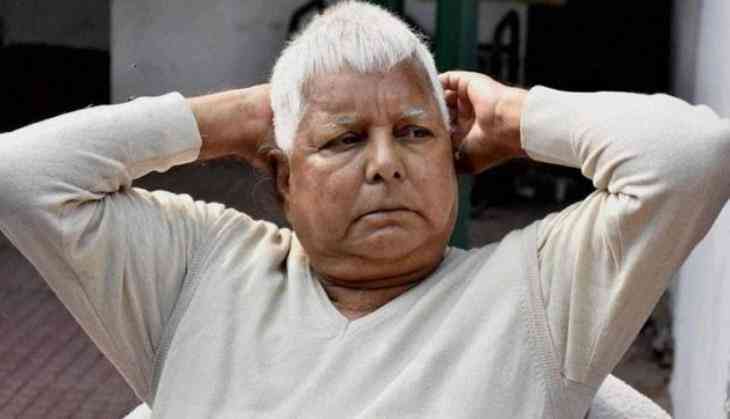 In a new blow for RJD Chief Lalu Prasad Yadav, an accused in multi-crore fodder scam case, his bail plea has been rejected by Jharkhand High Court. His bail plea on medical ground filed by his lawyers, with all medical reports was declined by the Ranchi court.
Jharkhand High Court rejects RJD chief Lalu Prasad Yadav's bail plea in Fodder scam cases. (file pic) pic.twitter.com/sBgX54PEGo

— ANI (@ANI) January 10, 2019
Lalu Yadav is currently facing imprisonment in fodder scam cases, he is currently at RIMS undergoing treatment.
Lalu Yadav is convicted in 4 cases out of 6 in the Fodder scam.
1) The first case of Chaibasa Treasury: On September 30, 2013, the court convicted Lalu Yadav. Five years jail sentence. The penalty of Rs 25 lakh was also imposed on him.
2) Deoghar Treasury case: Convicted on December 23, 2017. On January 6, 2018, 16 accused, including Lalu, were sentenced to three and a half years in jail. Lalu also imposed a penalty of Rs 10 lakh on him.
3) The second case of Chaibasa Treasury: Lalu guilty on January 24, 2018. He was sentenced to 5 years on the same day along with ten lakhs fine.
4) Dumka Treasury Case: In March 2018 Lalu Yadav was convicted. Former Chief Minister Jagannath Mishra was acquitted and Lalu was sentenced to 7-7 years on March 24. Both decorations will run separately. I.e. a total of 14 years. Lalu has also imposed a fine of Rs 60 lakh on him.
Hearing in these 2 cases to be done:
5) DORANDA Treasury Case: The hearing is going on.
6) Bhagalpur Treasury case: Its hearing is going on in the CBI court of Patna.
Also read: Fodder Scam: Ailing Lalu Yadav's bail plea on medical ground rejected by Jharkhand High Court