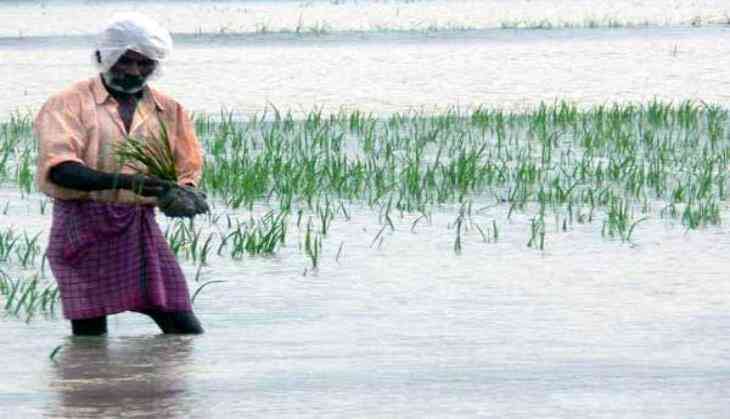 The flood fury in states of Assam, West Bengal, Bihar, Gujarat, Rajasthan, Uttar Pradesh alongside shortfalls in rains in southern states would significantly dent the Kharif crop output with three major foodgrains expected to give a lower harvest of 129.5 million tonnes this year against 138.5 million tonnes in the same season of 2016-17, Indicates a recent study by ASSOCHAM (Associated Chambers of Commerce and Industry of India), one of the apex trade association of India.
Current year's monsoon has been marked by uneven distribution rains in the country. Assam and Bihar have been facing unprecedented floods due to overflowing trans-border rivers. On the other hand, parts of Maharashtra, entire Karnataka and Kerala have been facing deficit leading to near drought-like situation.
It is more of a post sowing havoc which would result in the shortfall of around seven percent in the total Kharif foodgrains output, the alarming study states. Rice, pulses and coarse grains are all expected to witness drop in output in the current Kharif season as compared to the last year.
Besides, the oilseed would also see a decline of at least 15 % in production at 19 million tonnes against 22 million tonnes, with the excess rains taking a toll on the crop prospect.
Rice is the key Kharif crop which accounts for over 35% of the acreage. The sowing/transplanting of rice as on September 8, 2017, was at 371.46 ha against normal sowing of 396 lakh ha at this time of the year. Floods/drought in several rice-growing states could lead to a dip about 5% in the output to 91 million tonnes this year from 96.39 million tonnes in the last Kharif season.
This is because most of the rice growing areas have been affected by adverse weather conditions. As many as 18 districts of Bihar are reeling under floods. Likewise, West Bengal and North Eastern states which are predominantly paddy growing states have been affected by floods in a great manner. So is the situation in Uttar Pradesh which is the key contributor in Kharif rice. As many as 24 districts in Eastern Uttar Pradesh are under the grip of floods.
"We had pinned big hopes on agricultural production doing well in the wake of good monsoon, but floods have played a spoilsport", said ASSOCHAM Secretary General Mr D S Rawat.
The Khariff output had contributed 9.42 million tonnes to the total annual pulses output of 22.4 million tonnes in 2016-17. But Kharif pulses in the current year could see a dip compared to last year. "We estimate Kharif pulses production around of 8 million tonnes".
In coarse grains, sowing too has been adversely affected this season to 183.43 lakh ha as on September 8, 2017, as compared to 186 lakh ha in the comparable period of last year. Floods in Rajasthan coupled with rainfall deficiency in central India and drought in parts of Karnataka and Maharashtra have reduced the prospects of production of coarse grains in the country. "Thus we estimate coarse grain production of around 30 million tonnes against last year's Kharif output of 32.71 million tonnes".
Cotton too has been affected by floods in Gujarat and later by pest attack in other states as well. In A.P. and Maharashtra too cotton crop was affected by pink bollworm, while widespread damage was caused by floods in Rajasthan. "As against 331 lakh bales (bales of 170 kgs. each), we expect cotton crop output would decline to 300 - 310 lakh bales of 170 kgs each, countrywide".
-ANI