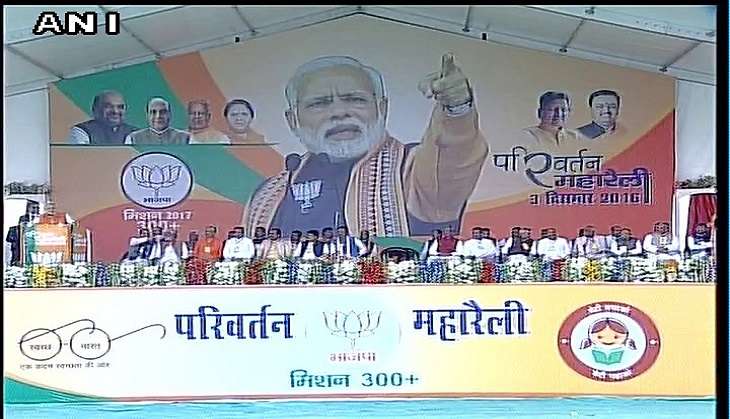 Prime Minister Narendra Modi addressed the Bharatiya Janata Party's (BJP) Parivartan rally in Moradabad on 3 December.
The Parivartan rally, which was flagged off by BJP president Amit Shah in Saharanpur on 5 November, is Prime Minister's fourth address in the yatra after Ghazipur, Agra and Kushinagar in poll-bound UP.
The yatra, which reached Moradabad today and the leaders will stay there for two-days before leaving for Rampur. After travelling through all 403 assembly constituencies, the four yatras will culminate in Lucknow on 24 December.
Speaking about the demonetisation, the PM urged the Jan Dhan bank account holders to not 'touch' the money which has been deposited by the rich people in their accounts, in order to avoid scrutiny by the IT department.
Here are highlights of PM Modi's address at Moradabad:
On demonetisation:
"Kuch log toh jaa ke gareebon ke pair pakadte hain; Kabhi Kisi ameer ko gareeb ke pair chute hue dekhein hain?" (Today the one's who have stashed black money are queuing outside the house of poor people, asking for their help).
"Want to tell poor people in whose account money has been deposited, don't touch that money, if they insist on asking for money, ask for proof".
"Is desh mei 40 crore smartphones hai, kum se kum 40 crore log toh notes ke chakkar se nikal jayein; corruption khatm ho jayegi".
"Beimani ke saare raastey bandh karne ke liye madad chahiye; Notes chaapke hum beimaano ki madad nahi karna chahta hun"
"I am fighting this war for you, what will those accusing me do? I am a fakir; will exit with my little belongings".
"Aajkal log poora din 'Modi, Modi, Modi' kar rahein hai, pehle bolte the 'Money, Money, money'".
"I am surprised that in my own country a few people are accusing me,is it fault that one's looting country are now being made accountable?"
On the upcoming UP polls:
"You, the people are my high command and no one else".
"When came to power, I personally asked officials on why despite 70 yrs of independence, many villages are still deprived of electricity? Thats when I made an announcement from the Red Fort that villages will b electrified in 1000 days, and we are fulfilling it".
"I have not fought from Uttar Pradesh only to become a MP but wanted to initiate a fight against poverty from this huge state".
"If one has to eradicate poverty from the country, it is essential to develop big states like UP, Bihar, Maharashtra".
When came to power, I personally asked officials on why despite 70 yrs of independence, many villages are still deprived of electricity?: PM pic.twitter.com/X9hFP9wCZs

— ANI UP (@ANINewsUP) December 3, 2016
Thats when I made an announcement from the Red Fort that villages will b electrified in 1000 days, and we are fulfilling it: PM Modi pic.twitter.com/45SzJnGre8

— ANI UP (@ANINewsUP) December 3, 2016
You, the people are my high command and no one else: PM Narendra Modi in Moradabad pic.twitter.com/wHAk73j7yi

— ANI UP (@ANINewsUP) December 3, 2016
I came to Moradabad late, but before coming I ensured that your years-long demand for electricity was met: PM Modi pic.twitter.com/liOmUVkUod

— ANI UP (@ANINewsUP) December 3, 2016
I am fighting this war for you, what will those accusing me do? I am a fakir; will exit with my little belongings, says PM Modi in Moradabad pic.twitter.com/NRL1bz94hQ

— ANI UP (@ANINewsUP) December 3, 2016
Is desh mei 40 crore smartphones hai, kum se kum 40 crore log toh notes ke chakkar se nikal jayein; corruption khatm ho jayegi: PM Modi pic.twitter.com/9YCkdqajvs

— ANI UP (@ANINewsUP) December 3, 2016