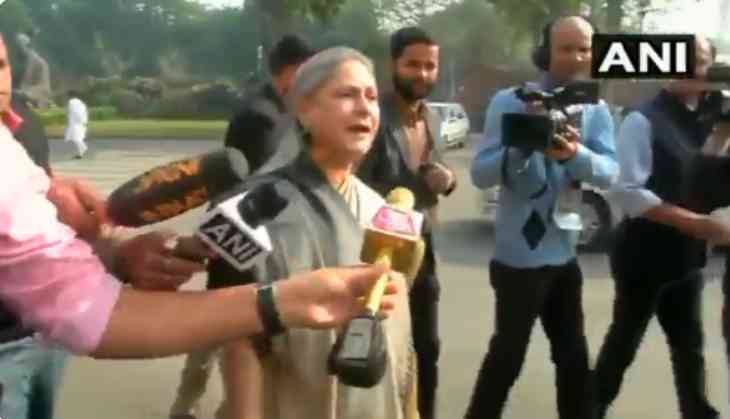 In the wee hours Hyderabad police encountered all four accused in veterinarian rape and murder case while they were trying to escape from the police custody. As per reports, police took the accuse to the crime scene for recreation and in cross-firing, they got killed.
Recently, Samajwadi Party MP Jaya Bachchan reacted on the same by saying, "Der aaye, durust aaye...der aaye, bohot der aaye."
#WATCH Samajwadi Party MP Jaya Bachchan on accused in the rape and murder of the woman veterinarian in Telangana killed in an encounter: Der aaye, durust aaye...der aaye, bohot der aaye.. pic.twitter.com/sWj43eNCud

— ANI (@ANI) December 6, 2019
Earlier, in Rajya Sabha actress turned politician expressed her grief by saying that the rape accused should be lynched publicly. Everyone condemns her for using such harsh words against the criminals and their acts. On this Jaya Bachchan reacted by saying that members are not allowed to raise important questions in Parliament and if they end up using harsh words than questions are raised. She concluded her statement by saying, "our words show our frustration only."
Yesterday while talking to reporters she expressed her frustration on the rise in crime rates in India and complained that such heinous acts need immediate attention. She further went on to talk about UP's Unnao rape case where the victim was set on fire by a group of five men including the accused.
Apart from Jaya Bachchan other politicians including Maneka Gandhi, CM Bhupesh Baghel have also reacted on the Hyderabad encounter.
Here check out their tweets:
Chhattisgarh Chief Minister Bhupesh Baghel on all four accused in rape&murder of woman veterinarian in Telangana killed in encounter: When a criminal tries to escape, police are left with no other option, it can be said that justice has been done. pic.twitter.com/5kw96wG34q

— ANI (@ANI) December 6, 2019
Delhi Chief Minister Arvind Kejriwal on #Telangana encounter: The rape cases that have come to light of late, people are in anger whether it is Unnao or Hyderabad, so people are expressing happiness over the encounter. 1/2 pic.twitter.com/ODSGMg1CX1

— ANI (@ANI) December 6, 2019
#WATCH Maneka Gandhi:Jo hua hai bohot bhayanak hua hai desh ke liye. You can't take law in your hands,they(accused) would've been hanged by Court anyhow. If you're going to shoot them before due process of law has been followed, then what's the point of having courts,law&police? pic.twitter.com/w3Fe2whr31

— ANI (@ANI) December 6, 2019
Kanumuru Raghu Rama Krishna Raju, YSR Congress Party on #Telangana encounter: They deserved to be shot dead. God has been kind that they were shot dead, this is a good lesson. They tried to run away&they were killed. No NGO should oppose it & if they do so, they are anti-national pic.twitter.com/dl56IVBn6Y

— ANI (@ANI) December 6, 2019
We should not rush to condemn until details emerge: Shashi Tharoor on Telangana encounter

Read @ANI Story| https://t.co/mrBkVyGudL pic.twitter.com/RdaPt0JBTU

— ANI Digital (@ani_digital) December 6, 2019
Baba Ramdev on Telangana encounter: What police has done is very courageous and I must say that justice has been delivered. Legal questions over it are a different matter, but I am sure people of the country are at peace now. pic.twitter.com/7WJcCoIM8z

— ANI (@ANI) December 6, 2019
The nation welcomed the police action against the rapists and demanded strict laws against them.
Also Read: Hyderabad Rape-Murder Case: 'My daughter's soul must be at peace now,' says victim's father after police encounter