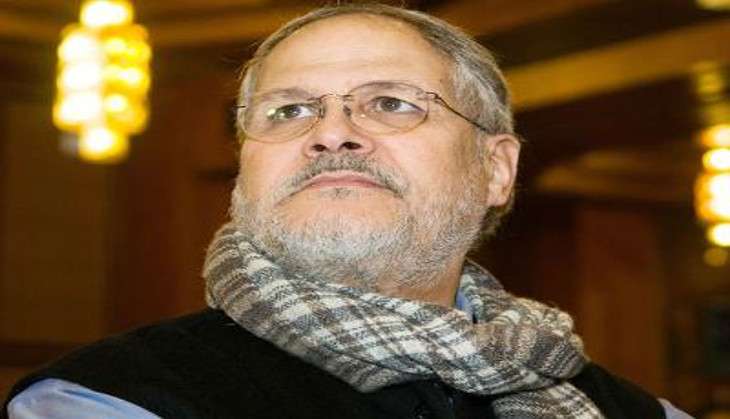 As part of measures to curb air pollution in the capital, Lt Governor Najeeb Jung ordered that trucks coming from other states will be allowed to enter Delhi only after midnight till 31 January next year.
Although the LG has lifted a ban on construction and demolition activity imposed last week, the ban on firecrackers and diesel generating sets will continue in the city.
Jung held a review meeting on condition of air pollution which was attended by PWD minister Satyendar Jain, Environment minister Imran Hussain and others. The last meeting had been chaired by him on November 7 where LG had ordered to de-register diesel vehicles older than 15 years.
"The LG has ordered Transport Department to allow entry of trucks in Delhi only after midnight till 31 January, 2017 to bring down air pollution level," an official said.
At present, trucks coming from other states are allowed in the national capital from 11 PM onwards. In yesterday's meeting, the Lt Governor was informed by Delhi Pollution Control Committee (DPPC) that it has recorded 1/3rd fall in PM 10 levels and 1/4th in PM 2.5 level in the last week.
"In view of loss of income to daily wage labourers, the LG has lifted the ban imposed in construction and demolition activity in the city. However, ban will continue on firecrackers and diesel generators sets.
"Jung has instructed to take action against violators of ban on firecrackers, particularly during marriage season," the LG office said in a statement.
The Lt Governor was informed that over Rs 1.5 crore revenue was generated from violators of construction/demolition activity in the last one week.
The Special Commissioner (traffic) informed that construction has been stopped at 539 sites and 29 cases have been registered. On de-registration of diesel vehicles older than 15 years, Jung was apprised that 763 vehicles have been deregistered and 1,795 challans issued.
In view of impounding of large number of vehicles, he has directed DDA will loan space/pits to Traffic Police to temporarily park these vehicles.
Jung directed the Transport Department to submit a comprehensive proposal in the next meeting to scrap the impounded vehicles.
2,625 non-destined vehicles have been turned back which amounts to more than 90 per cent of non-destined vehicles being returned back even since the last meeting chaired by the LG on 7 November.
The Special CP traffic informed 3,033 visibly polluting vehicles and vehicles not carrying PUC certificate have been challaned. In addition, 42 diesel commercial vehicles older than 15 years have been detained.
North MCD informed that one excavator and four bulldozers have been deployed at Bhalaswa landfill site and daily construction waste material in about 200 trucks is being spread on the site.
The DPCC has closed 33 polluting units in confirming areas and 146 in Redevelopment areas. East MCD has also closed 13 polluting industries and issued 196 challans.
The Lt Governor will be holding a review every 10 days at Raj Niwas on this matter.
--PTI