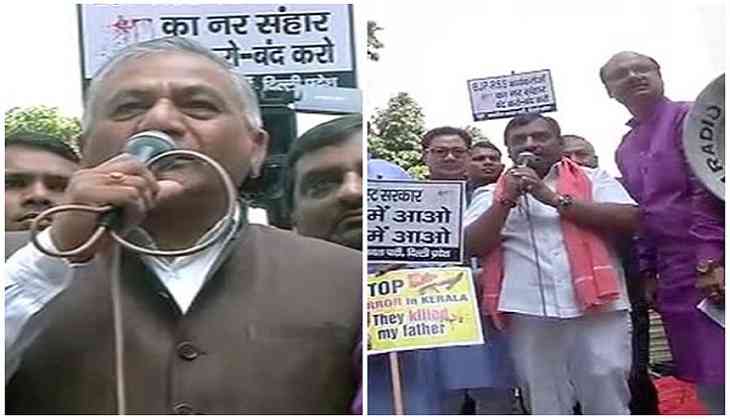 As a mark of protest against the alleged killings of its activists in Kerala by the Communist Party of India (Marxist) (CPM), the Bharatiya Janata Party (BJP) carried out a 'Jan Raksha Yatra' (people's protection march) here, a day after party president Amit Shah held a major protest rally.
The CPM also took out a counter protest on the streets of the national capital, marching against "false allegations by the BJP in Kerala".
Union Ministers V.K. Singh and Kiren Rijiju participated in the anti-CPM protest by the BJP.
V.K. Singh, at the BJP rally, said, "Wherever the Left-wing governance exists, they resort to such killings to scare people. I am going to Kerala tomorrow to support our party workers there. I hope that with our full efforts, we will succeed in defeating the Leftist governance."
He further raised slogans of Vande Mataram, and said that the protest march would make the public aware of the deeds of the Kerala Government, and the Left-wing.
"Wherever the Left-wing political parties have formed a government, they have always threatened people with murder," Singh addressed the gathering.
He also assured that the protests would be successful in vanquishing the Left-wing.
Kiran Rijiju declared that they would act more and speak less, and added, "The communist party constitutes a major part of anti-national elements."
Accusing the CPM government in Kerala of sponsoring violence in the state, Rijiju said that the policies followed by the state government do not suit a democracy.
With the BJP forming a government in most Indian states, he also claimed that the communist party would soon be "wiped out of Tripura" in the next election.
The Delhi Police later used water cannons to disperse crowds at the massive rally.
Earlier this week, Shah had kicked off the Jan Raksha Yatra (people's protection march) from Payyannur in Kerala against the CPM.
The party president is expected to go back to Kerala on October 15, the day party's yatra ends.
The party will take out the 'Jan Raksha Yatra' every day from every state capital till 16 October.
-ANI