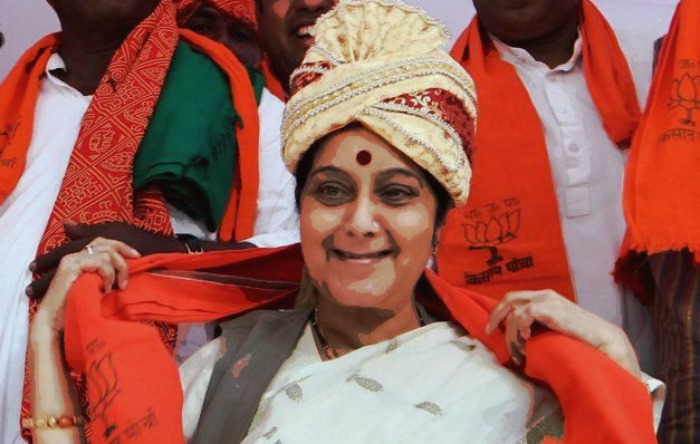 We can no longer deny it. Sushma Swaraj, 62, has swagger. Only the second woman to ever hold the Ministry of External Affairs after Indira Gandhi, Swaraj has indeed come a long way from becoming a minister at 25, to now.
From her almost theatrical speeches in the Parliament, to her on-point social media skills, she has everything going for her.
If your passport is lost or damaged in floods, pl go to any of three PSKs in Chennai. They will issue u fresh passport free of charge. Pl RT

- Sushma Swaraj (@SushmaSwaraj) December 7, 2015
I have not heard from you @gayathriraguram. Pl phone Mr Lakra of Indian Embassy in Riyadh on 00966542126769. I have asked him to help you.

- Sushma Swaraj (@SushmaSwaraj) December 2, 2015
During her just-concluded visit to Pakistan after the trilateral meeting with Pakistan's premier Nawaz Sharif and the President of Afghanistan, Ashraf Ghani, she held her own, managing to gel hard-hitting political talk, with a smile. Her bubbly hand-shake with the Advisor to Pakistan PM on Foreign Affairs, Sartaj Aziz, has by now become a popular GIF.
Elegant lady @MaryamNSharif with #SushmaSwaraj pic.twitter.com/lAW7JbfKaB

- Nazrana Yousufzai (@NazranaYusufzai) December 9, 2015
And rumour has it that Swaraj conversed in Punjabi with Nawaz Sharif while discussing matters of the state. If that isn't testimony to her impressive skills as a skilled conversationalist and a maverick politician, maybe you need to read that line once more. Will the always-enthusiastic Swaraj manage to make a dent in the ginormous wall between India and Pakistan? She might. She might not. The issue isn't as simple as we'd like it to be. But this is for sure - Sushma has definitely made headway as far as breaking ice is concerned. Here's what you probably didn't know about her: 1. She was reportedly awarded 'best NCC cadet' for three consecutive years during her time in Sanatan Dharm College, in Ambala Cantt 2. She beat four-time Chief Minister of Haryana and the then Minister of Defence, Bansi Lal at the age of 25; and was a part of Haryana Legislative Assembly from 1977 to 1982. 3. While swearing into the Lok Sabha in 2014, our Minister of External Affairs took oath in Sanskrit. Apart from an LLB degree, she majored in Sanskrit and Political Science, from Punjab University. 4. She is married to Supreme Court lawyer Swaraj Kaushal and has a daughter Bansuri, who after completing her graduation from Oxford University, studied law from The Honorable Society of Inner Temple. 5. She believes in astrology and gemology. She colour-coordinates her sarees and clothes according to the day of the week. For instance, on Wednesdays she wears green and eats green. On Sundays she breaks free and wears what she wants to and eats what she feels like. You go, Sushmaji.