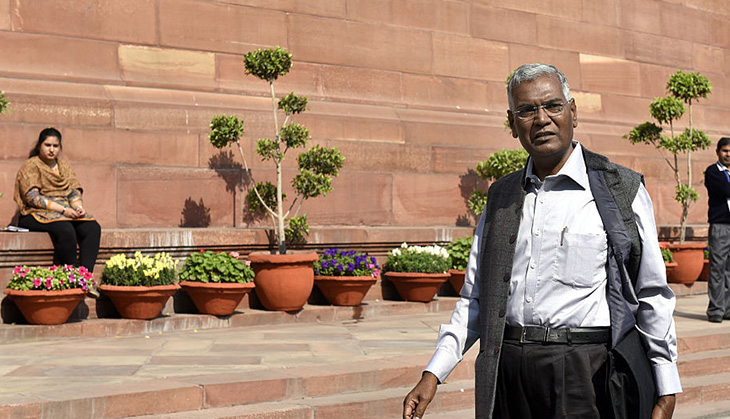 D Raja, the National Secretary of the Communist Party of India (CPI), on Tuesday said that the reunification of the Left is necessary now - at a time when the BJP is on the rise.
The Rajya Sabha member, during an interview with The Hindu, was asked if his statement meant a potential move to become a single Communist party. He responded, "Definitely. What is the big difference (in CPI and CPI(M) stands) on national issues?"
CPI and CPI(M) split in 1964 over differences with regard to the nature of the Indian state, with the faction that became CPI(M) accusing the CPI of "revisionism", or deviation from core Marxist premises. Another cause of the split was the growing differences between the USSR and Communist China, with the CPI(M) more in line with the latter.
"The Congress will have to review its policies... Who will be their leader is for them to decide. But on the same old policies, the Congress can't fight the BJP and cannot win back the confidence of the people," he said in the interview.
Raja, during the interview accepted that merely the issue of secularism will not help revival of the Left and that they will have to fight for social justice and economic development as well.
He added, "As far as the CPI is concerned, we have been talking about reunification of the communist movement. Issues which were there at the time of the split in the communist movement are no more there today. At the international level, we have relations with the Communist Party of the Russian Federation and Communist Party of China. There are annual meets of communists. Both of us participate. In one meeting they asked what is the big difference between the CPI and the CPI(M)? Now history is forcing these issues on the CPI and CPI(M)... We are talking about reunification of the communist movement."
It is time for the communists to respond to the call of history on their unity and reunification, as it is time to go mainstream and not be at the periphery, he said, adding that when the Indian Right is in power it is important for the Indian Left to understand its role as a force to confront the Indian Right and shape the political movement.