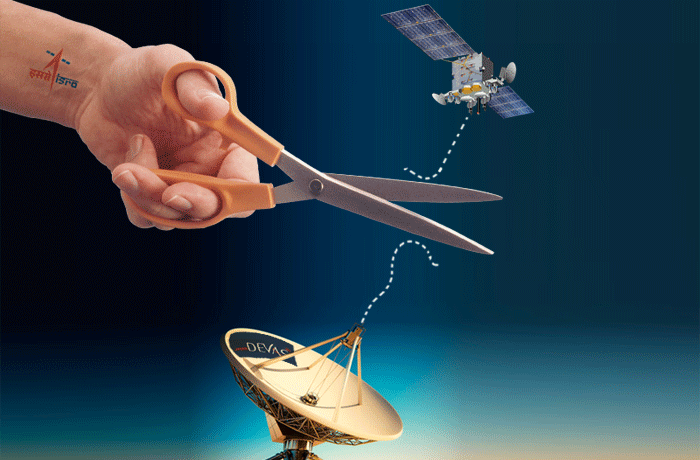 Indian Space Research Organisation (ISRO), the premiere space agency of India known for propelling the country forward in the space game, is now undergoing one of the worst crises of all time.
The Central Bureau of Investigation (CBI), on 19 March, registered a case against former officials of Antrix, ISRO's commercial arm, for being involved in cheating, criminal conspiracy and corruption.
Last week, an international arbitration court slapped a fine of Rs 4,435 crore to be paid by ISRO to Devas Multimedia in damages. However, an Antrix statement asserted that Department of Space and Antrix is planning to move court to seek remedy.
After the fine was imposed, in an interview given to Indian Express, former ISRO chairman G Madhavan Nair alleged that his successor K Radhakrishnan misled the government on the Devas-Antrix deal. "Someone should be held responsible for the financial losses to ISRO because of the fine," he said.
What is the issue?
On 28 January 2005, ISRO's commercial arm Antrix got into an agreement with Devas Multimedia and promised to lease 90 per cent transponder space of G-SAT6 and G-SAT6A for 12-years to the company.
Devas, in return, had to pay 300 million dollars to Antrix during that period. Also, the company was entitled to 70 MHz space of S-band spectrum out of total 150 MHz owned by ISRO.
In February, 2011, The Hindu reported that there were certain irregularities in the entire deal related to financial mismanagement, favoritism and breaking of rules according to a draft audit report.
Prior to that, on 2 July 2010, the matter was taken up by a Space Commission, which after examining the deal, directed Antrix to annul the contract. However, final decision to cancel the agreement was taken in February, 2011.
The reason which the committee gave was that there was a growing need of space based spectrum in strategic and national purposes.
After the cancellation of agreement, Devas approached the arbitration court seeking damages. Reportedly, some partners of the company have also gone to the courts with separate claims of damages from ISRO.
The CBI had registered a case against former Devas chairman M G Chandrasekhar, CEO R Viswanathan and KR Sridhar Murthi, former head of Antrix Corporation. It was alleged that Devas made a profit of Rs 578 crore through wrongful measures.
Why is it crucial for ISRO's image?
The space research organisation has never been involved in a controversy of such proportions in the past. Not only does this taint its image, but it also makes things tougher for ISRO to maintain its popularity.
There has been only one instance where two of ISRO scientists were accused of espionage in 1994. However, further investigations proved the accusation to be false.
Apart from harming the credibility of the organisation, the financial burden of paying damages to Devas and its partners might hamper various ongoing projects as it will lead to a huge money crunch for ISRO.
In 2012, the then UPA government barred four scientists Madhavan Nair, Sridhar Murthi, A Bhaskaranarayana, K N Shankara from taking any government position in future. All four of them had retired from the organisation at the time of the decision.