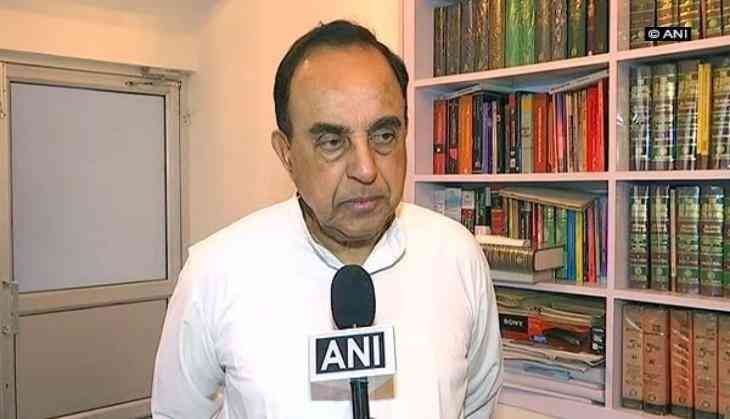 Lambasting Congress for falsely implicating Rashtriya Swayamseak Sangh (RSS) chief Mohan Bhagwat for perpetrating "so-called Hindu terror' across the country, senior Bharatiya Janata Party (BJP) leader Subramanian Swamy on 14 July said Congress president Sonia Gandhi, vice-president Rahul Gandhi and party leader P. Chidambaram should be charged with perjury.
"The government should set up something to register an FIR and make Sonia Gandhi, Rahul Gandhi and P. Chidambaram as accused in a conspiracy to subvert the country and falsification of information, tantamounting to perjury," Swamy told ANI.
Swamy said he was already aware of the conspiracy hatched by the UPA Government to implicate Bhagwat.
Swamy further said that even after the United States had declared the Lashkar-e-Taiba (LeT) as an international terrorist organisation, the Congress hatched a new plan to implicate Bhagwat by introducing the nomenclature 'Hindu terror'.
"They (Congress) did a somersault here and started a new FIR with so-called Hindu terror and the whole objective was to somehow implicate Mohan Bhagwat because he is the head of the largest voluntary organisation of the world, and it is the backbone of the BJP, as far as workers are concerned. Therefore, this cultural organisation was sought to be so defamed, that by the time elections came, people out of fright, would decide not to vote for the BJP and give it to UPA. But that gamble failed, because by the time they could get along to summon and subject Bhagwat to third-degree methods, which was their dirty plan, the police (NIA level) said they wanted further proof and so it was delayed. So when the elections came, we won," Swamy said.
Swamy further said that the same approach was adopted by the Congress in the case of Mahatma Gandhi's murder, but they faced failure there as well.
"In the Mahatma Gandhi murder case also, this was attempted, but it failed. They used the media control they had to propagate against the RSS. Now, we won't allow them to do this. They should be brought to book," he said.
Union Minister Mukhtar Abbas Naqvi also said members of such nationalist parties were there in the hit-list since the beginning. However, the forces who tried to malign them were exposed in the past and will be exposed now as well.
As per reports, after the extreme violence in Ajmer and Malegaon blast, the UPA Government had pressurised the National Investigation Agency (NIA) to implicate Bhagwat as per their 'Hindu terror' theory.
-ANI