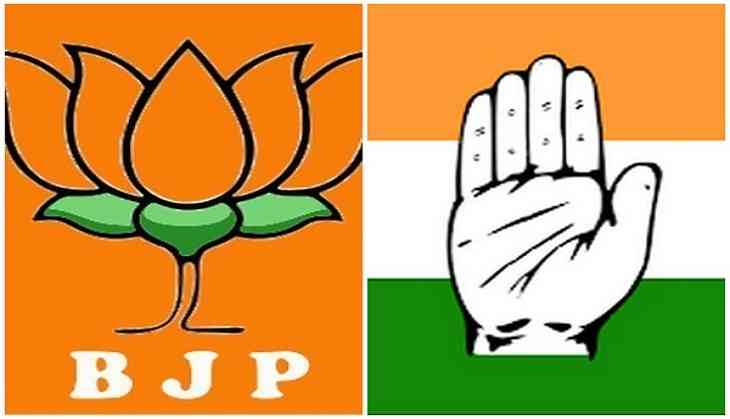 The Congress Sunday dismissed the Rs 2.5 a litre cut in petrol and diesel prices as "electoral lollipop" aimed at the five poll-bound states, and asked the Narendra Modi government to bring petroleum products under the GST regime.
Congress spokesperson Pawan Khera told reporters that oil prices have begun rising again since the cut was effected on Thursday, adding that it showed the government's duplicity and hypocrisy.

He questioned the government's claim of oil prices being deregulated, saying they depend upon the electoral calendar as they remained unchanged for 17 days during the Karnataka assembly polls, and a similar pattern was seen during the Gujarat polls.
"We reiterate our demand to bring in petroleum products under the ambit of GST so as to completely demolish this sheer hypocrisy of credit seeking just before the electoral season," he said.
This government believes in tokenism for short term applause, he said.
After "ghar-ghar Modi" (Modi in every home) time for "bye-bye Modi" has come, and the government can bring a smile on people's faces as it departs by bring petrol and diesel under the GST, he said.
Taking a dig at Finance Minister Arun Jaitley, whom he dubbed as full time blogger and part time minister, Khera accused him of "lying" in his claim that the increase in the government's revenue is on the account of an increase in tax base.
Khera said oil companies have made over Rs 13 lakh crore, which is fuelling the government's coffers.
The government has used money in event management and publicity, he alleged, noting that it allocated merely Rs 2,000 crore for the Ayushmaan Bharat scheme, a health insurance scheme for the poor.
Since coming to power, the government has increase central excise duty on petrol by 211 per cent and on Diesel by 443 per cent, the Congress leader said.
When the Congress demitted power the excise duty on petrol was merely Rs 9.23 a litre and has been raised by the Modi government to Rs 19.48 a litre. The excise duty on diesel has been raised from Rs 3.46 a litre to Rs 15.33 a litre, he said.
Even the Value Added Tax (VAT) levied by state governments is among the highest where the BJP is in power, he said.
-PTI