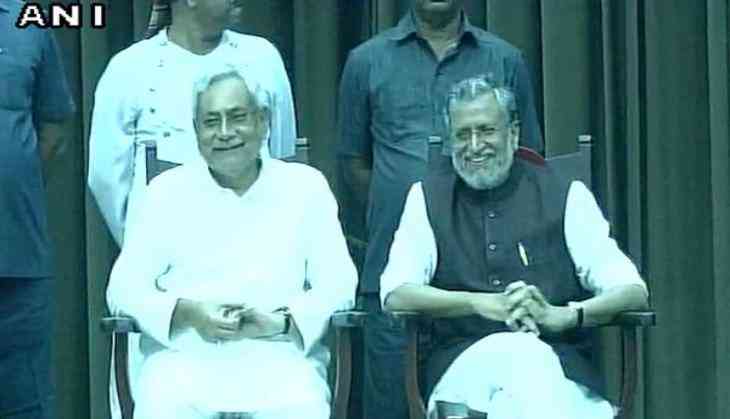 Congress on 27 July alleged that the Bharatiya Janata Party (BJP) and Janata Dal (United) [JD(U)] hatched a pre-planned conspiracy to topple 'mahagadhbandhan' led Bihar Government.
JD-U leader Nitish Kumar, who resigned as Bihar Chief Minister on Wednesday, again took oath as Bihar Chief Minister on 27 July with BJP leader Sushil Kumar Modi taking oath as Deputy Chief Minister.
Reacting on the new political development in Bihar, senior Congress leader Shakeel Ahmad said that the Rashtriya Janata Dal (RJD) should have been invited to form government in Bihar for being the single largest party in the state.
Speaking to ANI here, Shakeel Ahmad said, "Nitish Kumar's party did not have more numbers than the RJD so the Governor should have asked others to prove their majority, but it was pre-scripted. From Delhi to Bihar, it is a planned conspiracy."
He further said that Congress had supported Nitish as he was against Prime Minister Narendra Modi-led BJP Government.
"We did not expect this from Nitish ji. Once he was against Modi ji and that time Congress supported him but he betrayed us," said Shakeel.
Congress leader Mallikarjun Kharge also alleged that BJP is using every tactic to break the Opposition.
"Those who demanded votes in the name of secularism today have joined the ones who believed in dictorial politics," said Kharge
Bihar is witnessing upheaval soon after Nitish Kumar resigned on 26 July evening and termed his alliance with the Rashtriya Janata Dal (RJD) as unnatural.
Nitish Kumar and BJP leader Sushil Modi took oath as Bihar Chief Minister and Deputy Chief Minister respectively today.
-ANI