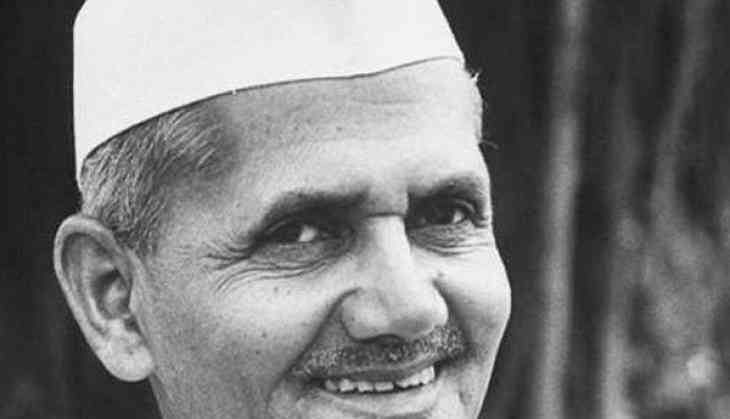 Lal Bahadur Shastri (ANI)
At a time when India has very nearly forgotten that most humble Prime Minister that India has had since independence, a man who was tough, a man who could have changed this country and guided it to its destiny, a man who died soon after signing an Accord in Tashkent in January of 1966 - Lal Bahadur Shastri, each year I mourn quietly and remember that fateful night when the telephone rang in my hotel room at the dead of night and the caller at the other announced " Your Prime Minister is Dead".Please come down as soon as you can. I was stunned - could not believe - the words that came out of my mouth, "they killed him". Who were they and why did I say that I have wondered ever since.
There were no special planes those days like Air India One these days for Prime Ministers. Shastriji and his entourage, both official and media men like me, flew on the commercial Air India flight that was diverted to Tashkent to cover what was supposed to be historic talks between India and Pakistan mediated by the then Soviet Union. The Cold War between the West and the Soviet Union was then at its peak.
Following the terrible defeat that India had suffered at China's hands in its border war in 1962, it had been a dream for Gen. Ayub Khan of Pakistan to wrest Jammu and Kashmir, which he thought he could easily do with the Indian Army still equipped with World War 2 weaponry and his forces armed to the teeth with the latest American weapons. Little did he realise that Nehru before his death had done his best to re-equip the defence forces and keep Ayub Khan at bay diplomatically while he did so.
With Nehru's passing away in May 1964, Ayub did not think much of diminutive Shastriji. He began his adventures in the Rann of Kutch and seeing success in an area devoid of any earlier military confrontation, he then began his Operation Gibraltar in Kashmir hoping to wrest that state quickly.
Ayub's adventure failed when he found a man of steel in India's Prime Minister Lal Bahadur Shastri who ordered his army to attack mainland Pakistan. For the first time in its history post independence, India crossed its borders to attack another nation.
Soon, we were deep inside Pakistan. I covered that war on the outskirts of Sialkot in Pakistan and then reached the Ichhogil Canal outside Lahore when a cease-fire was called. In the meanwhile, the Indian Army had wrested the strategic Haji Pir Pass in Kashmir, which I climbed with the Indian Army as it advanced. Pakistan had suffered a humiliating defeat. Ayub's Presidency was now under threat.
Hoping to wean away Pakistan from the United States, the Soviet Union, a friend of India intervened and made India agree to negotiate a settlement with Pakistan. Thus came about the Tashkent talks, something that the Prime Minister and his Defence Minister Y.B. Chavan were not very keen on at that time. But South Block's mandarins succeeded in convincing them, and India agreed to have talks in Tashkent.
It was freezing cold in the month of January in Tashkent, temperatures were well below zero. It was being said that was not good for Shastriji's health, yet he was there with his Defence Minister Y.B. Chavan and Foreign Minister Sardar Swarn Singh and a whole lot of senior civil and military officials. The talks proceeded as expected. India refusing to cede any territory in Kashmir. However, we could clearly see the pressure that the Soviet Union was putting on India to relent.
Those days journalists did not face a kind of restrictive access that is faced by them these days. Men like me had complete access to the 'Dacha' of the Prime Minister and could see what was going on. As the talks stalled, I distinctly remember Soviet Foreign Minister Alexei Kosygin arriving at Shashtriji's 'dacha'. We were all of course outside in the lawns with both Ministers Y.B. Chavan and Sardar Swarn Singh also there. Kosygin made a beeline for Swarn Singh and took him aside. I heard Kosygin distinctly asking Swarn Singh to get the agreement signed. In his suave and in a polite way, Swarn Singh replied some words to the effect "how can I impose my opinion on him, he decides." Kosygin left after a while - disappointed.
A day later, we knew that the talks had failed. Shastriji was willing to vacate mainland Pakistani areas that India had captured, but was not willing to vacate any territory of Kashmir retaken by India. Jammu and Kashmir was an integral part of India. Pakistan wanted the strategic Haji Pir back along with other areas lost by it. The Indian Army was firmly against Haji Pir being ceded as it is the route from where infiltration takes place into Kashmir.
With Shastriji unwilling to concede and pressure mounting on him, the Indian delegation announced that it was going back. On 10th January, we all went out for shopping as talks had been abandoned and the next day we were scheduled to fly out. Suddenly hordes of Soviet information officials came rushing to the market areas to announce that an accord was to be signed and asked all of us to get back to the venue. None of us could believe what had happened in the intervening period. What were the pressures worked on India?
The Tashkent Accord was concluded - India had ceded the Haji Pir Pass along with all other territories it had captured. A victory was now turned into status quo ante.
At the evening reception held by the Soviets, this author and N.S. Thapa of the Films Division walked up to Shastriji to request him if we could come to the dacha, later on, to get some shots of him at work. It was around ten at night, or maybe a little later, that we reached Shastriji's Dacha and the famous silhouette shots of him pacing up and down inside his Dacha were filmed apart from few others. Shastri looked very tired and lost.
Coming back to the hotel and then receiving that call in the dead of night seems so long away. Next day, as we stood in the open and in freezing temperatures waiting for the body to arrive, the ministers had worked out special flights to take the body and the delegation back.
To constant enquiry as to what happened and who was there when he died sadly one heard that even the security officer of Shastriji was not around in the Dacha, nor was his doctor and that India's second Prime Minister had died of a massive heart attack in the arms of a Soviet guard outside his room! Why?
What were the pressures put on the Prime Minister of India that claimed his life? Was it the Soviet Union's ploy to win Pakistan away from the United States in its Cold War that killed Shastriji? Who were the mandarins at the Foreign Office who carried out the Soviet Union's wishes to pressure the Prime Minister to sign?
The mystery remains because no one has seen till today any archive papers of Indian delegations' inner talks at Tashkent. Have those documents been destroyed. No one tells. The mystery continues.
The author of this article is the Chairman of ANI, Mr Prem Prakash