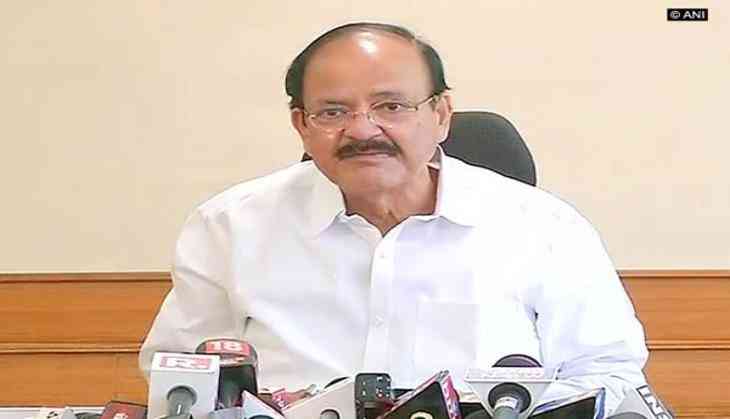 Vice President of India M Venkaiah Naidu
Vice President of India M Venkaiah Naidu has taken the big decision today by rejecting the impeachment motion against Chief Justice of India Dipak Misra. The Congress-led opposition parties initiated the unprecedented step to impeach the CJI by imposing the levelling charges against him. Vice President also said that he doesn't want to stretch the matter and also rejected because of 'lack of substantial merit in it.'
Vice President started the process of consultation on the impeachment notice against CJI Dipak Misra on Sunday. He held discussions with constitutional and legal experts.
Due to announcing the decision on the case, Vice President cut short his visit to Hyderabad and reached New Delhi to hold deliberations over the notice filed by the seven opposition parties.
On April 20, the opposition parties led by Congress moved the impeachment motion in the Rajya Sabha, seeking the removal of CJI Misra under Article 217 read with article 124 (4) of the Constitution of India. The motion was signed by 64 sitting members of the House.
Also read: CJI Impeachment motion: Opposition submits CJI Dipak Mishra's impeachment notice to Venkaiah Naidu; Supreme Court calls it 'unfortunate'
Vice President M Venkaiah Naidu rejects the Impeachment Motion against CJI Dipak Misra. pic.twitter.com/Bz53ikvAwh

— ANI (@ANI) April 23, 2018
According to the Article 124(A), a Supreme Court Judge cannot be removed from his office until unless President of India passed an order after an address by each House of Parliament supported by a majority of the total membership of that House and by a majority of not less than two-thirds of the members of that House present and voting has been presented to the President in the same session for such removal on the ground of proved misbehaviour or incapacity.
-With ANI inputs
Also read: Supreme Court's Justice Loya case verdict marks sad day in India's history, says Congress