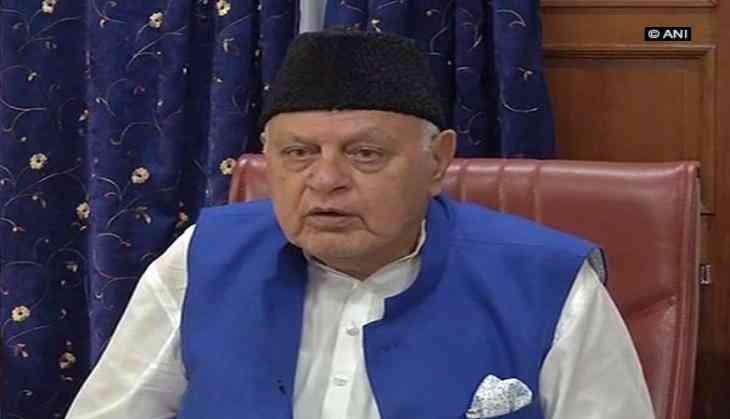 Jammu and Kashmir National Conference president ( JKNC) Farooq Abdullah launched a scathing attack on the ruling National Democratic Alliance ( NDA), saying that any outside source doesn't pose any threat to India, as those dwelling inside the nation are even more dangerous.
Addressing the crowd at the 'Sanjhi Virasat Bachao' programme today, Abdullah said, "Any outside source doesn't pose any threat to India, as those dwelling inside the nation are even more dangerous. China cannot do anything to us, Pakistan cannot do anything to us, it is the thief sitting inside the country that is ruining the nation and dividing all of us."
Abdullah further said that he very proudly calls himself an Indian Muslim, saying that Muslim Indians fought for the freedom struggle of India.
Abdullah said, "Earlier our fight was with the British, but today it is against our own people."
He added that the forces would stay, but 'they' wouldn't survive: "You will perish the same way, the British were perished from India."
"Are you trying to be God? The moment a mere human starts thinking he is God, his end begins," said Abdullah.
Abdullah further said that India belongs to everybody and they should respect it.
"We Kashmiris are called Pakistanis. I would request you to take that thought out of your head. We are not fighting for Pakistan; we are fighting for our right in the India and these people want to take away our right."
He further said that back in 1947, Kashmir would have easily joined Pakistan, but it chose to stay in India.
"My father chose to join hands with Gandhiji, follow his rules and today I am still shaking hands with Gandhiji's nation, which means equality. It is where the division of religion and caste perishes," Abdullah said.
He requested everybody to take the "propaganda" being spread out of their heads.
"We aren't Pakistani Muslims, or foreign Muslims, we are Indian Muslim. Try to understand our pain," Abdullah said.
"One Pakistan has already been created, how many more do you want to create."
Abdullah said that the government has bought the media as well and one can see that as "none of them writes anything against this government."
"Although" he said, "The day isn't far when everybody will be standing together against them."
"You say I am not loyal, the truth is you are not a person with a heart," he said.
"You have to free your nation from these people who are trying to divide us."
He also congratulated all the leaders present at the conference saying that all of them are working towards bringing the whole nation together.
"The desire to make a sacrifice is in our hearts. Let us see what strength there is in the arms of our executioner," Abdullah quoted the poem Sarfaroshi ki Tamanna written in Urdu by Bismil Azimabadi.
This is not the first time Farooq Abdullah has slammed Bharatiya Janata Party ( BJP).
Earlier in July, he said, "They are only here to stay in power and loot the public of Jammu and Kashmir."
He has criticised Chief Minister Mehbooba Mufti's government saying that she has always secretly 'backed Kashmiri separatists'.
"She (Mehbooba) is hand-in-glove with the Hurriyat. Even you know that she always secretly backed the Kashmiri separatists. She used to consider Geelani her father," he said.
The conference ' Sanjhi Virasat Bachao' was conducted by Janata Dal (United) ( JD(U)) senior leader Sharad Yadav, on 17 August in Delhi.
-ANI