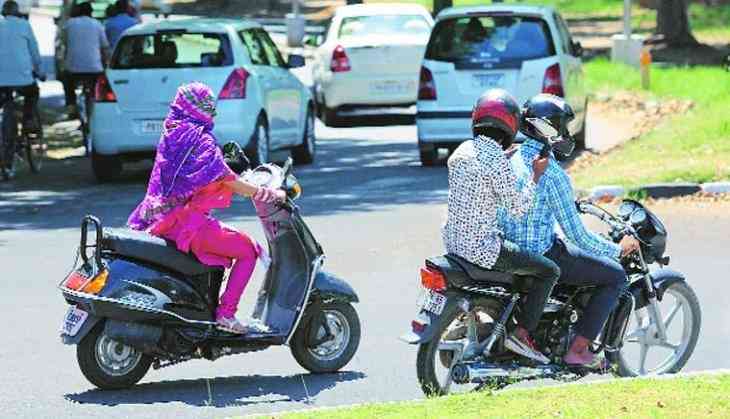 Helmet not mandatory for Sikh women
In a decision taken by the Union Home Ministry, the ministry has advised the Chandigarh administration to exempt Sikh women drivers from wearing helmets.
The notification was issued on a request filed by the Shiromani Akali Dal chief Sukhbir Singh Badal on behalf of the Sikh bodies, who made a representation to the Home Minister Rajnath Singh.
The Home Ministry has advised the Chandigarh administration to follow the Delhi government's notification issued in 1999 to exempt Sikh women from wearing head gear, while driving two wheelers in the union territory.
The rule was further amended, through a notification issued on August 28, 2014, as "in the Delhi Motor Vehicle Rule 1993, in Sub-Rule 115 for the word "women" the word "Sikh women" shall be submitted.
"A Sikh man or woman can't wear any kind of hat as it is prohibited strictly in the code of conduct for Sikhs. So, no Sikh woman can wear helmet," said one of the office bearers of the Shiromani Akali Dal women wing.
"Death is certain and it will come when it has to whether you wear a helmet or not," she added.
"We had appealed to Home Minister Rajnath Singh I and am glad that the Home Ministry has agreed to our demand," said Sukhbir Singh Badal leader of Siromani Akali Dal (SAD), an ally of the BJP.
"This is in response to the representations Home Minister received from various Sikh organisations," said a senior Home Ministry functionary.
The exception is given on the basis of religion but on the other hand, BJP proposes to pass a Universal Civil Code through which it wants to keep every religion on same pedestal, which is quite contrary to this decision.
Also read: Assembly Election 2018: Akhilesh Yadav nods 'yes' as Samajwadi Party to contest Telangana polls for the first