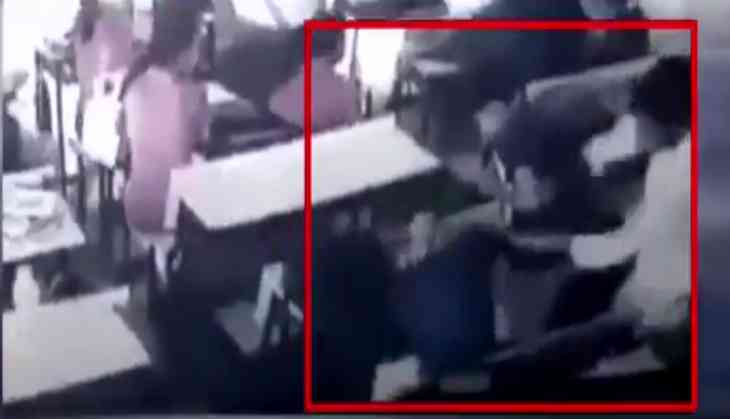 In a shocking case, a school teacher mercilessly beat up Class 10 kid in Rajasthan after which the kid fell unconscious. Well, all the incident got captured in the CCTV camera of the classroom. The incident reportedly took place on Saturday where Rajasthan's Vivekananda Model government school teacher in Dausa district repeatedly slapped his Class 10 student in the classroom. All the incident got captured and has been widely surfaced across the social media platform.
Watch the video here:
The teenager was beaten up by physical education teacher, Jairam Meena who was angry over him for coming late to the class. Soon after the kid fainted and was rushed to hospital by his friends. The kid narrated his horror and said, "I soon fell unconscious and my friends took me to hospital. I narrated the whole incident to my family after I felt a little better," he added.
"I left the class when he (the teacher) asked me to do something and then I had gone to drink water. When I came back, he asked me how I got so late. He started beating me as he sought an explanation. He held me by the hair and continued to thrash me," he said.
The school comes under the BJP-led Vasundhara Raje government where school have been provided with the facility of CCTV cameras to ensure the safety of the children.
The family members of the school kid have approached police and registered a complaint against the teacher on Sunday.
A probe has been ordered in the case, SHO Lalsot police station Rajendra Kumar was quoted as saying by news agency PTI. Additional district education officer Manisha Sharma said the accused teacher was put on awaited posting order on Sunday.
Also read: OMG! Class 10 Jabalpur boy distributes father's Rs 46 lakh cash among friends as Friendship Day gift; here's what happened next