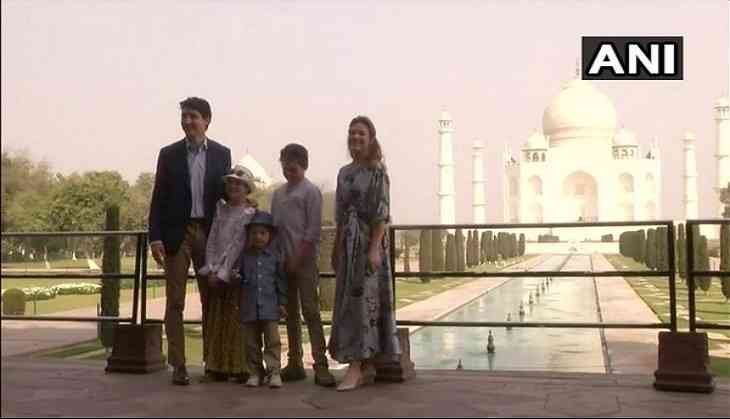 Canadian Prime Minister Justin Trudeau visited the world-famous Taj Mahal here on Sunday.
Trudeau was accompanied along with his wife Sophie Gregoire and his three children, Xavier, Ella-Grace, and Hadrien.
Many foreign dignitaries have visited the Taj Mahal in the past few years.
The Taj Mahal, located along the Yamuna river, was built by Shah Jahan, a 17th century Mughal ruler for his wife, Mumtaz Mahal, who died while giving birth to her fourteenth child.
It is one of the most outstanding examples of Mughal architecture, having a combination of Indian, Persian and Islamic influences.
The structure of the monument is built entirely with white marble, studded with semi-precious stones and is inscribed with verses of Quran. It is surrounded by four minarets.
It was one of the Seven Wonders of the World and is designated as an UNESCO World Heritage site since 1983.
The Canadian Prime Minister, who arrived in India on Saturday, is on a week-long state visit to the country.
After visiting the Taj Mahal, he will proceed to Mathura, where he will visit the Wild Life Century (Elephant Conservation Center).
The sanctuary will remain shut for around two hours to the public, owing to Trudeau's visit.
The week-long state visit to India, which includes stops in Agra, Amritsar, Ahmedabad, Mumbai, and New Delhi, will provide an opportunity for Trudeau to connect with the Indian leaders in government and business, promote empowerment of women and girls, and strengthen Canada and India's close economic ties.
The Indian and Canadian sides will reaffirm the close friendship between the two countries and discuss ways to further deepen bilateral cooperation.
Trudeau will also participate in several business roundtables to promote further trade and investment between Canada and India.
Canada will work closely with the Indian leaders to advance their economic opportunities in both countries respectively
-- ANI