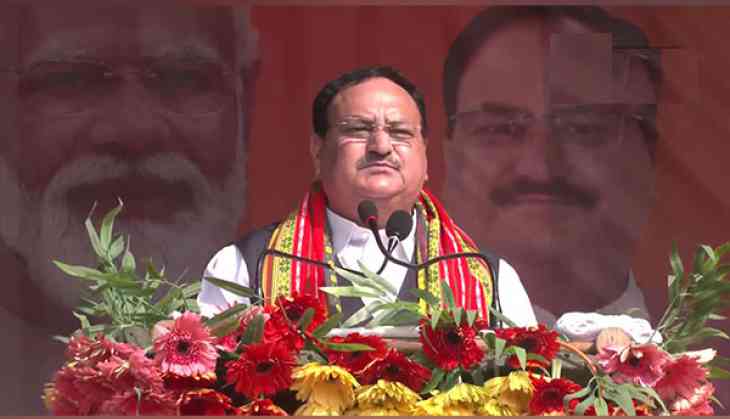 Bharatiya Janata Party (BJP) National President Jagat Prakash Nadda on Friday said that the budget has been increased by four times for the tribal communities adding that for the past 70 years, no one cared for the tribals. The BJP national president was addressing the Vijay Sankalpa Jansabha at Amarpur in the Gomati district.
Nadda said, "It is a matter of pride for the tribal society that today our president is Droupadi Murmu. For 70 years no one cared for tribals. I am happy that eight central ministers are tribals, our CM is tribal. For tribal communities, the budget has been increased by four times."
"Union Budget 2023-24, the first budget of 'Amrit Kaal' is a blueprint for India's development; it is filled with aspirations and a framework to make the nation's economy truly inclusive and empowered," he added.
The BJP national president also lauded the government for the progress in Tripura."Today we can say with pride that it is the 'New Tripura' with new aspirations. PM Modi has a special concern for North East. Tripura is moving forward under BJP's rule," he said."
PM Modi had said that the state of Tripura could also make progress just like any other part of the country, and these five years stand as testimony to his very belief," said Nadda.
Stating that a few years ago, Tripura was a land of insurgency, violence, bandh, strikes and terrorism, Nadda said, "Now, under the BJP rule, Tripura has become a state possessing Peace, Development and Prosperity."JP Naddu also launched a scathing attack on previous governments over a large number of scams.He said, "How was India nine years back? India was a kneeling India, it was an India that could not take a decision. It was one of the corrupt countries where scams used to happen every day.
"But in the last nine years under the leadership of Modi ji, India has become a country of aspirations, a leapfrogging country and a strong nation which can establish itself in the world," he added.
Targeting the previous Congress and Communist rule in the state, he said, "There had always been corruption, violence, cheating and what not under the Congress' rule, and under the Communists' rule. They have both stood together now, both are corrupt. But the BJP has come ahead to save Tripura from the clutches of corruption and misrule."
Meanwhile, the BJP is likely to release its election manifesto for Tripura in the next week. BJP posted a stunning victory in Tripura in the 2018 Assembly elections, a Left bastion with Manik Sarkar being its Chief Minister for over two decades. After its poll victory, BJP appointed Biplab Deb as Tripura Chief Minister and in May 2022 appointed Manik Saha for the role.
The party is preparing itself to register another win in Tripura and has struck an alliance with its former ally Indigenous People's Front of Tripura (IPFT) which has fielded its candidates at five assembly seats.
For the elections at 60 Assembly seats in the northeastern state, which are slated to be held on February 17, the BJP has fielded 55 candidates. Former CM Manik Sarkar, hailing from the Communist Party of India (Marxist), would also contest the upcoming Assembly polls to the state. According to party officials, several other BJP leaders will also campaign in the northeastern state.
Earlier on January 27, BJP held a CEC meeting in the national capital to finalize the names of the candidates for the upcoming Tripura Assembly elections. For the first time, 11 women candidates have been given tickets in the state assembly election.
Tripura is slated to go to Assembly polls on February 16. Votes will be counted on March 2 along with Nagaland and Meghalaya.