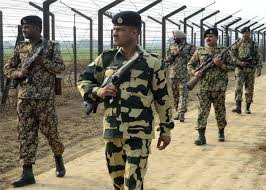 Though according to experts, the next big ISIS (Islamic State) target in the region would be India but according to a top BSF official, there is no threat from the Islamic State terror group along India's borders in the north-eastern states.
"This problem has never been highlighted here. We are safe and secure and any impact ISIS is there in the region," said Border Security Force (BSF) Tripura frontier Inspector General MF Farooqui to reporters during a press conference in the BSF Tripura Frontier headquarters on the raising day of the BSF.
BSF is the biggest border guard of the world with 2.5 lakh troopers mainly guarding the more than 6500 km border with Pakistan and Bangladesh. Beside this the force also works in the tough Naxalite areas and Jammu and Kashmir.
"We are having a cordial atmosphere with the BGB (Border Guard Bangladesh) and we are working in tandem and this ISIS problem is not an issue with us," he added.
Farooqui, a 1995 batch Indian Police Service officer of the Gujarat cadre, said that for the border guarding force, but the border depends on who is on the other side and what the approach of the government there is.
According to him the improved relation and coordination with the BGB through fast exchange of information between the two border guards has a positive impact in better managing the border and thereby reducing smuggling, crime and insurgency besides pumping of fake Indian currency notes (FICN).
"The total seizure this year has been 9.52 crore rupees beside seizure of phensydel (cough syrup), ganja (marijuana) and ganja plants. We have registered phenomenal success and we are having constant cordial cooperating meeting with the BGB also. Wherever we feel that that their support is required and where they feel our support is required we do joint meetings and share our concern and plan to protect the border securely. Smuggling is one of the biggest challenge as FICN is concern because it is directly hit to the nations security," said the BSF IG.
"There is a reducing trend in smuggling, insurgency and FICN,"
He said that from 25 battalions in 1965, the BSF now has 186 battalions comprising 2.5 lakh troopers and officers currently posted on 13 frontiers, including three frontiers in the northeastern states.
Raised in 1 December, 1965, the BSF is celebrating its golden jubilee with many functions and programmes.
The BSF official said the number of camps of militants in northeast India was decreasing in neighbouring Bangladesh as the present government in that country was very supportive.
Four north-eastern states share a 1,880-km border with Bangladesh. The states are Tripura (856 km), Meghalaya (443 km), Mizoram (318 km) and Assam (263 km).
-ANI