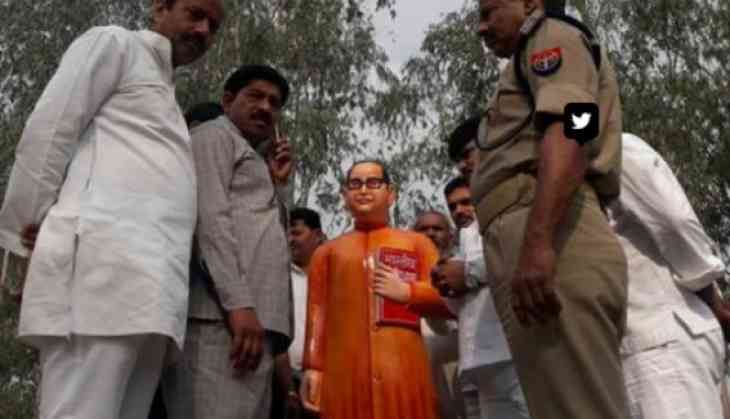 A couple of day after a statue of BR Ambedkar's was bulldozed in Uttar Pradesh's Badaun's Dugraiyya town, a new statue was immediately brought in and installed by the police. Well, there was something new about this statue and it turned Dalits red face. This Ambedkar's statue was in saffron colour sherwani that triggered huge protests from Dalits, demanding it to be in blue.
Attacking the ruling state government led by Yogi Adityanath the two-timer former BSP MLA from Dataganj in Badaun, Sinod Shakya said, "After painting many buildings saffron across the state, the BJP government now wants to saffronize Ambedkar statues, which is unacceptable. If the statue is not painted blue, we will launch a stir against the district administration." Mr Shakya also demanded the arrest of the people who were involved in vandalising the statue in the first place.
Also read: Bharat Bandh: Amid anti-quota protest BPUT postpones exams in Odisha; protesters block train in Bihar's Arrah
Badaun: A BR Ambedkar statue which was vandalized recently has been rebuilt and painted saffron in colour pic.twitter.com/saW7U9BBUi

— ANI UP (@ANINewsUP) April 10, 2018
Meanwhile, Bharat Singh Jatav, Badaun district president, Aarakshan Bachao Sangharsh Samiti, said, "There is anger among the community members due to the colour of the coat. Saffron is unusual as we have always seen his pictures and statues in dark coloured western outfits, blazer and trousers. It must be repainted."
Veeru Sonkar, state general secretary of Akhil Bharatiya Khatik Samaj, said, "The saffron statue of the Dalit icon comes soon after the state government emphasised on 'Ramji' as his middle name. The local unit of our organisation will give a memorandum to the Badaun district magistrate condemning the statue's colour and demand that it be painted blue," reported TOI.
When contacted, Badaun sub-divisional magistrate Parasnath Maurya said, "The statute installed here was selected by local residents with the help of a BSP coordinator. They had claimed that other statues available at Agra were small in size and that they did not like those."