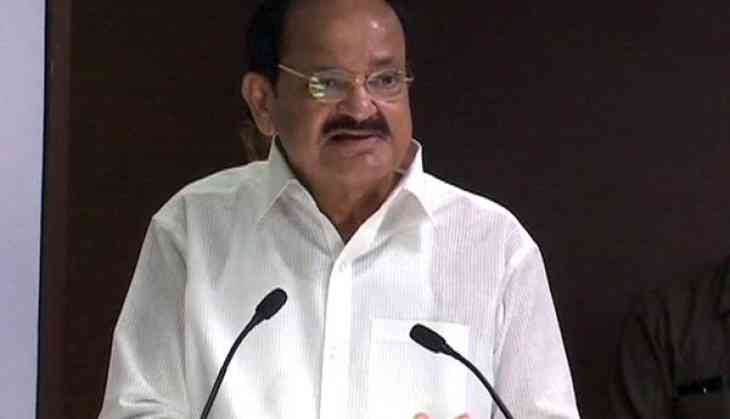 Vice President Venkaiah Naidu on Friday said problems in India are being identified and addressed, while adding that all "BIMARU" states are now developing.
While interacting with the Indian community in Serbia here, the Vice President said, "Some of the states are doing very well including the so-called 'BIMARU' states. There is nothing BIMARU now. They are also now growing up," he said. Bihar, Madhya Pradesh, Rajasthan, Uttar Pradesh are called as BIMARU states.
Talking about his visit to Serbia, the Vice President said the main objective of his visit is to expand the political, economic and cultural relations between the two countries. He also asserted that there is a huge scope of enhancing bilateral economic cooperation.
He also urged the Indian business community along with the Serbian business community to take advantage of the opportunities in both the countries to boost the bilateral trade and investment.
"I would like to inform you that the world's engagement with India is at a new level. India has climbed 30 places in the World Bank Ease of Doing Business Index this year and International Monetary Fund (IMF) has forecast India to grow at more than 7 percent in 2018 and 2019, ahead of other major economies," Naidu said.
Referring to the flagship programs of the Indian Government such as 'Make in India', 'Skill India', 'Digital India', 'Smart Cities' and 'Start-up', Naidu termed India as a land of opportunity for those who want to "connect, innovate, trade and invest."
Vice President Naidu also appreciated the gesture of Serbian government to abolish visas for Indian nationals to travel to Serbia for short duration.
The Vice President said that Serbia has consistently supported India in multilateral fora including India's permanent membership of the United Nations Security Council and membership of the Nuclear Suppliers Group (NSG). He also praised the Serbian leadership for their solidarity with India in the fight against terrorism.
Underlining the initiative taken by the Indian Government for the benefits of the Indian diaspora in Serbia, the Vice President said that a new facility, Pravasi Bharatiya Kendra in New Delhi has been created as a one-stop resource centre for the diaspora. He added that to facilitate the easy stay of foreigners of Indian origin in India, facility of OCI cards have also been extended.
During his visit, Naidu will interact with the Serbian President Aleksandar Vucic, Prime Minister Ana Brnabic and speaker of the Serbian Parliament. Apart from this, he will also address the National Assembly of Serbia and the India-Serbia Business Forum during his visit.
(ANI)