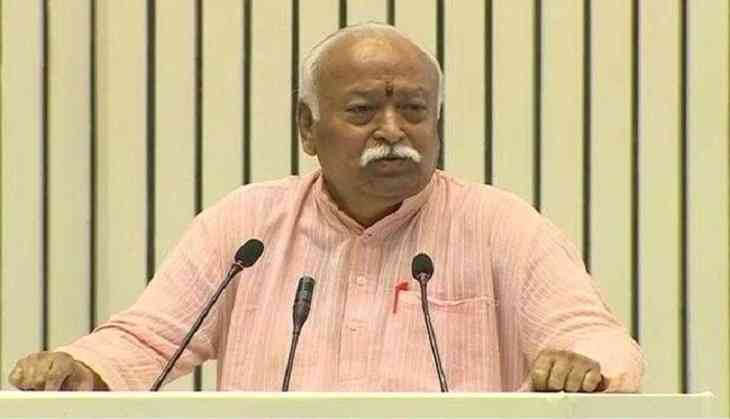 Rashtriya Swayamsevak Sangh (RSS) chief Mohan Bhagwat will be holding a press conference in Delhi at 1 pm on Saturday after the Supreme Court verdict on the Ram Janmabhoomi-Babri masjid title suit.
Bhagwat will address the media at KeshavKunj Parisar, Jhandewalan, RSS tweeted.
सर्वोच्च न्यायालय द्वारा श्री रामजन्मस्थान मंदिर वाद के निर्णय के पश्चात आज दोपहर 1 बजे, सरसंघचालक श्री मोहन भागवत दिल्ली में केशवकुंज परिसर, झंडेवालान में मीडिया के माध्यम से राष्ट्र को संबोधित करेंगे। pic.twitter.com/2zdboRAqrO

— RSS (@RSSorg) November 9, 2019
Supreme Court will pronounce its historic judgment in the decades-old Ram Janmabhoomi-Babri Masjid land dispute case today at around 10.30 am.
The apex court will deliver its verdict on a batch of petitions challenging September 30, 2010, Allahabad High Court order, which trifurcated the 2.77 acres disputed land between the Nirmohi Akhara, the Uttar Pradesh Sunni Central Waqf Board, and Ramlalla Virajman.
Also Read: Temporary jails in all UP districts, tight security in Ayodhya
The 40-day long proceedings turned out to be the second-longest hearing in the history of the Supreme Court, after the historic Kesavananda Bharati case which went on for 68 days.
On Friday, Chief Justice Ranjan Gogoi, who is set to demit office on November 17 held a meeting with Uttar Pradesh Chief Secretary Rajendra Kumar Tiwari and director general of police (DGP) Om Prakash Singh and took stock of security arrangements in the state. The officers briefed the Chief Justice about their preparedness in handling the law and order situation.
(With Inputs from Agencies)
Also Read: Ayodhya Verdict Today: A timeline of Ramjanbhommi-Babri Masjid land dispute

Also Read: Ayodhya Verdict Today: Sri Sri Ravi Shankar's audio message before the judgment